Glimpse inside 'This Is Us' Star Justin Hartley & 'All My Children' Alum Chrishell Stause's Love Story & Dramatic Divorce
Justin Hartley and Chrishell Stause's love story once delighted fans of their respective television shows, but this feeling was short-lived as their relationship ended in divorce. 
In October 2017, "This Is Us" star Justin Hartley and "All My Children" actress Chrishell Stause wed in an intimate ceremony open to family and a select group of friends at the Calamigos Ranch in Malibu. Stars of "This Is Us," including Mandy Moore, Sterling K. Brown, and Milo Ventimiglia, were present at the wedding.
Their relationship began back in 2013 before Hartley rose to fame on his hit TV show. A mutual friend introduced them, and they ended up hitting it off.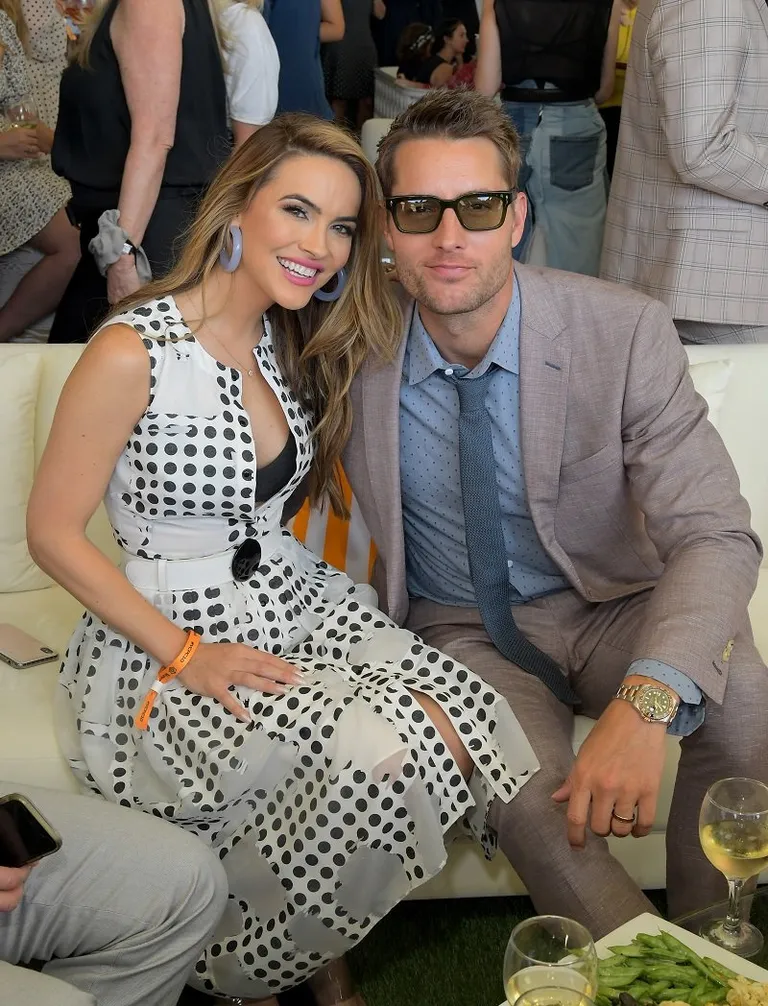 THEIR EARLY RELATIONSHIP
After three years of dating, they got engaged in July 2016. Just two months later, "This Is Us" premiered on NBC, skyrocketing Hartley's fame.
In October 2017, they got married in front of 75 close family and friends. They set their wedding date to four years since the day after their first date, the first time Stause felt that Hartley was "the one" for her.
THEIR SKYROCKETING CAREERS
Through the years, they worked on their careers, and Stause went on to star on Netflix's reality TV show "Selling Sunset," where real estate agents sell the top luxury properties in Los Angeles with some personal drama added in between. 
In season three of the show, the drama mainly focused on Stause and Hartley's divorce, which was shown onscreen. Hartley filed for divorce in November 2019, and those close to them were completely shocked by this decision. 
HARTLEY SUDDENLY FILES FOR DIVORCE
In August 2020, "Selling Sunset" streamed its third season. During the show, Strause explained what happened and finally gave her side of the story. She said:
"We had a fight that morning over the phone, and I never saw him since. We didn't talk things through, and before we had a chance to figure anything out, he filed."
HARTLEY'S IMPULSIVE NATURE
According to Stause, Hartley was known to be impulsive. When they fought, he would always say that he wanted out of the marriage. In the end, she thought it was just another one of those times. The actress was hopeful that they'd work through their issues, but that wasn't the case.
Ultimately, she revealed that the same way people wanted answers, she did too. And after six years of dating, she was left searching for answers that her ex wouldn't give her. 
FIRST STATEMENT AFTER THEIR DIVORCE
Almost a year after filing for divorce, Hartley shared an update about how he was doing professionally and personally. He revealed that he was happy with how his life is going and that he was thankful for it. 
As for addressing the accusations regarding what Stause had said previously about their relationship, he wanted to take no part in that. The actor stated that while he lives a public life, he'd like to stay private about his own personal affairs. 
HIS LATEST RELATIONSHIP UPDATE
In May 2021, the buzz on Stause and Hartley began again after they both attended the MTV Movie & TV Awards. However, Hartley made headlines for making his red carpet debut with Sofia Pernas.
The actress shocked everyone after people noticed she was wearing a ring on her wedding finger. What everyone knew for sure was that Pernas and Hartley had been dating publicly for less than a year, but according to People, they tied the knot during that time.
According to sources, the "Selling Sunset" star wasn't surprised about her ex-husband re-marrying so quickly. The source added that Stause wished them well and had moved on from that particular point in her life. 
Before all the drama surrounding his personal life, Hartley was married to "Passions" co-star Lindsay Korman. They share a daughter together and filed for divorce after eight years of marriage.
While people would think they wouldn't end up on good terms, Korman once spoke out about her ex-husband at the height of his divorce with Stause. She defended him and called him a part of her family.