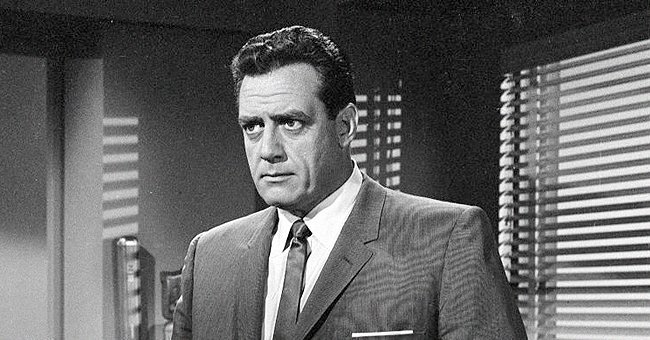 Getty Images
'Perry Mason' Star Raymond Burr Had to Hide His Sexuality and Live a Life of Lies
Raymond Burr is remembered as one of, if not the first, gay leading men in a hit television series. Unfortunately, he was born in an era where people were severely criticized for being gay such that he hid his sexuality.
As time progressed, society became more accepting of different sexual identities. More groups, such as the LGBTQ+ community, formed to support people who were thought to be different.
Unfortunately, things were not as open back in the day, such that many queer folks hid behind straight personas and never came out to the public. Among them is actor Raymond Burr.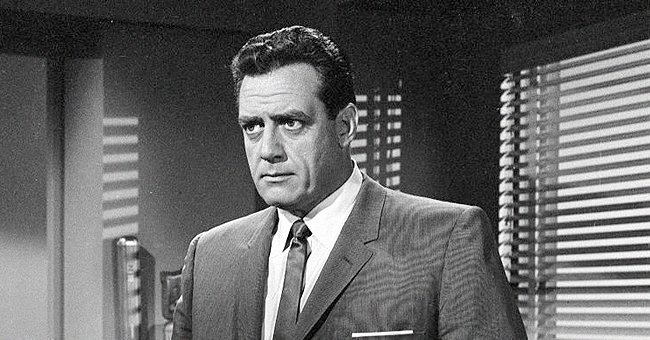 Raymond Burr as Perry Mason in the TV series "Perry Mason" entitled ?The Case of the Crying Comedian? on July 20, 1961. | Source: Getty Images
EARLY LIFE
Burr was born in New Westminister, British Columbia, Canada. He stood six feet tall and had a sharp voice that went well with his expensive suits. He hadn't dated anyone throughout his school life until he turned 22. That was when Ed Sullivan published a rumor of Burr dating Ona Munson.
It later turned out that Ona Munson had survived three unsuccessful marriages and was a lesbian, decreasing the possibility of the rumor being true.
Thankfully for Burr, he found his niche acting in school theater productions and later went on to study at the famed Pasadena Playhouse when he completed his high school years. He is most known for playing Perry Mason, a fictional lawyer, in the drama series "Perry Mason," where he won two Emmy awards.
Actor Matthew Rhys, a two-time Golden Globe nominee, later played the titular character in the legal drama series reboot.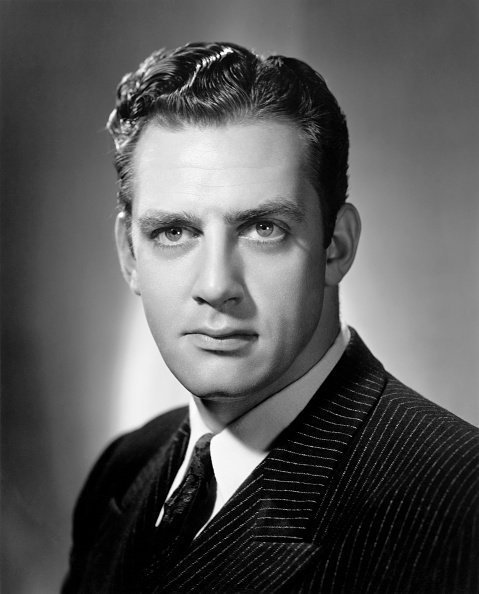 A black and white photo of Raymond Burr, circa 1946. | Source: Getty Images
BURR'S MARRIAGES
At the age of 25, Burr met his first wife, actress Isabella Ward, while working as a teacher at Pasadena Playhouse. He starred with Ward in "Quiet Wedding" and then tied the knot with her in January 1948, five years after meeting.
Unfortunately, their relationship was short-lived. Their marriage only lasted months before the couple got divorced in 1952. Ward relocated back to Baltimore and neither remarried.
Burr later claimed otherwise. Instead, he married a Scottish actress named Annette Sutherland. According to Burr, he met Annette when he went on a tour to Britain. He also added that she gave birth to their son, Michael Evan Burr, in 1943, who later died of leukemia.
Before his son's passing in 1953, Burr claimed to have taken Michael on a cross-country trip while taking a year break from show business. However, the actor filmed seven television shows and eight movies from 1952 to 1953, making his story quite impossible.
Another lie that Burr came up with was that his wife, Annette, died in the same plane crash that killed Leslie Howard in 1943, shortly after the birth of their child. After investigation, the airline confirmed that there was no record of any woman named Annette Sutherland traveling on that plane.
If Burr's claims were correct, then Isabella must have met his son, Michael, who would have been five years old at that time. When asked about it, Isabella replied:
"No, I never met him. Because there was no son. But I don't want to talk about that — it isn't my place to say anything about that."
Ward also claimed that Burr never mentioned anything about a woman named Sutherland, which would be an odd detail to leave out of their marriage.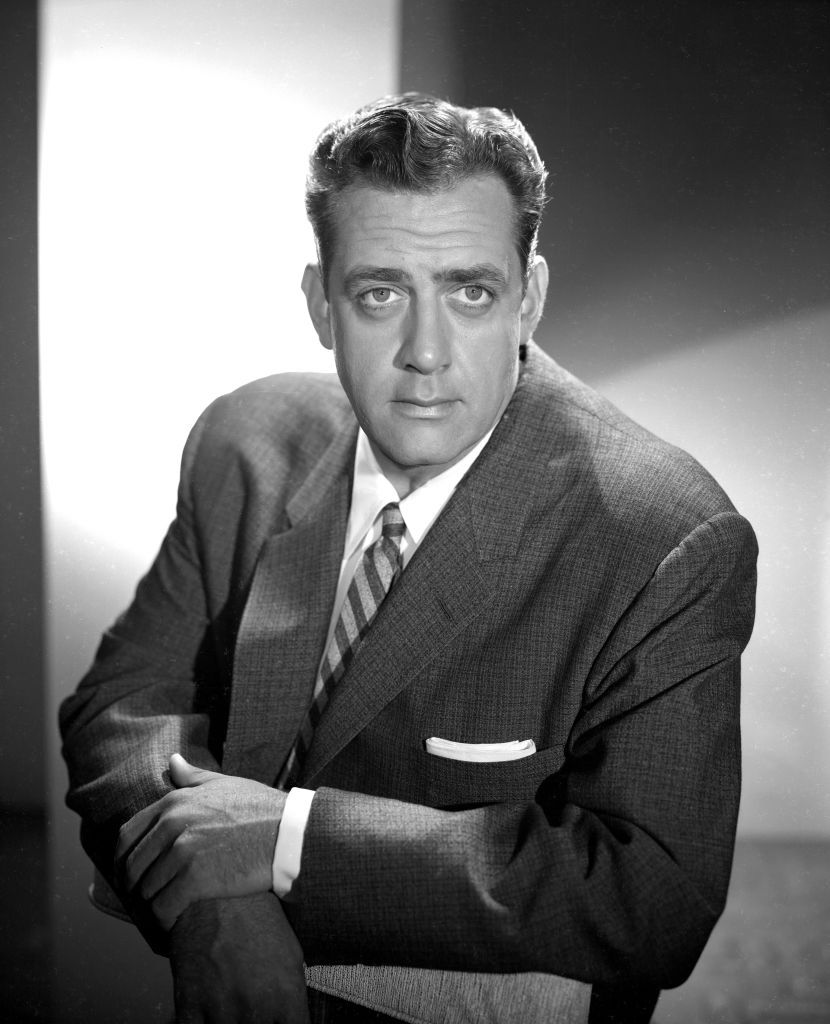 Raymond Burr as Perry Mason in the CBS television legal drama "Perry Mason," January 1, 1957. Los Angeles, CA. | Source: Getty Images
While Burr was present on shoots, people around him would ask about his marriage to Annette and the birth of his son, and Burr would tell the same thing to everyone, "I don't discuss that."
After portraying himself as a widower, Burr added another alleged dead wife to his narrative. He told his "Perry Mason" co-star, Barbara Hale, that he married Laura Andrina Morgan in 1955, who would later die from cancer.
The couple reportedly tied the knot just before she passed away. However, a different tale was known about Burr's whereabouts in the mid-'50s. He was actually entertaining Korean troops and getting to know Natalie Wood.
Naturally, questions about his married life were brought up by the press. When one of the reporters on set asked him about his marriage, Burr made sure to lecture them so that they don't ask the same thing again. He said:
"I am an unmarried man, as opposed to a single man. A bachelor, according to the dictionary, is a man who has never been married. An unmarried man is not married at the moment."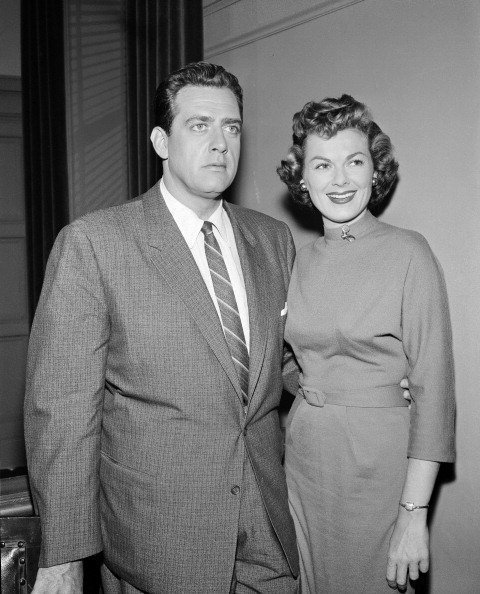 Raymond Burr and Barbara Hale in Los Angeles on January 20, 1959. | Source: Getty Images
A WEB OF LIES
Burr was a talented man, but he habitually lied to people about many things. Aside from his fabricated marriages, he claimed that he was part of the U.S. military.
However, that turned out to be false after people found out that he worked for the U.S. Coast Guard for some time and not the military.
Some stories detailed that Burr was shot during the 1945 Battle of Okinawa and had scars on his stomach. Others claimed he survived a kamikaze attack and was recognized with a Purple Heart for his heroic deed. Sadly, none of these were proved to be true.
According to the National Personnel Records Center, they did not find information verifying Burr's military service. His name would have appeared in the database had he served even for a day.
RELATIONSHIP WITH ROBERT BENEVIDES
While he kept his sexuality private to the prying eyes of the public, he had been in a romantic relationship with Robert Benevides for many years before his death. The couple met on the "Perry Mason" set in 1957 and were together until Burr died in 1993.
Benevides was a young actor, 13 years Burr's junior. The pair immediately hit things off and had a strong attraction that grew quickly. According to "Perry Mason" producer Art Marks:
"Benevides started hanging around the set with Raymond. [...] I know Ray liked [Benevides] and was supporting him in some things he wanted to do."
According to staff members of "Perry Mason," Benedives and Burr were visibly inseparable. Some sources say that the couple tied the knot in a secret ceremony in 1963.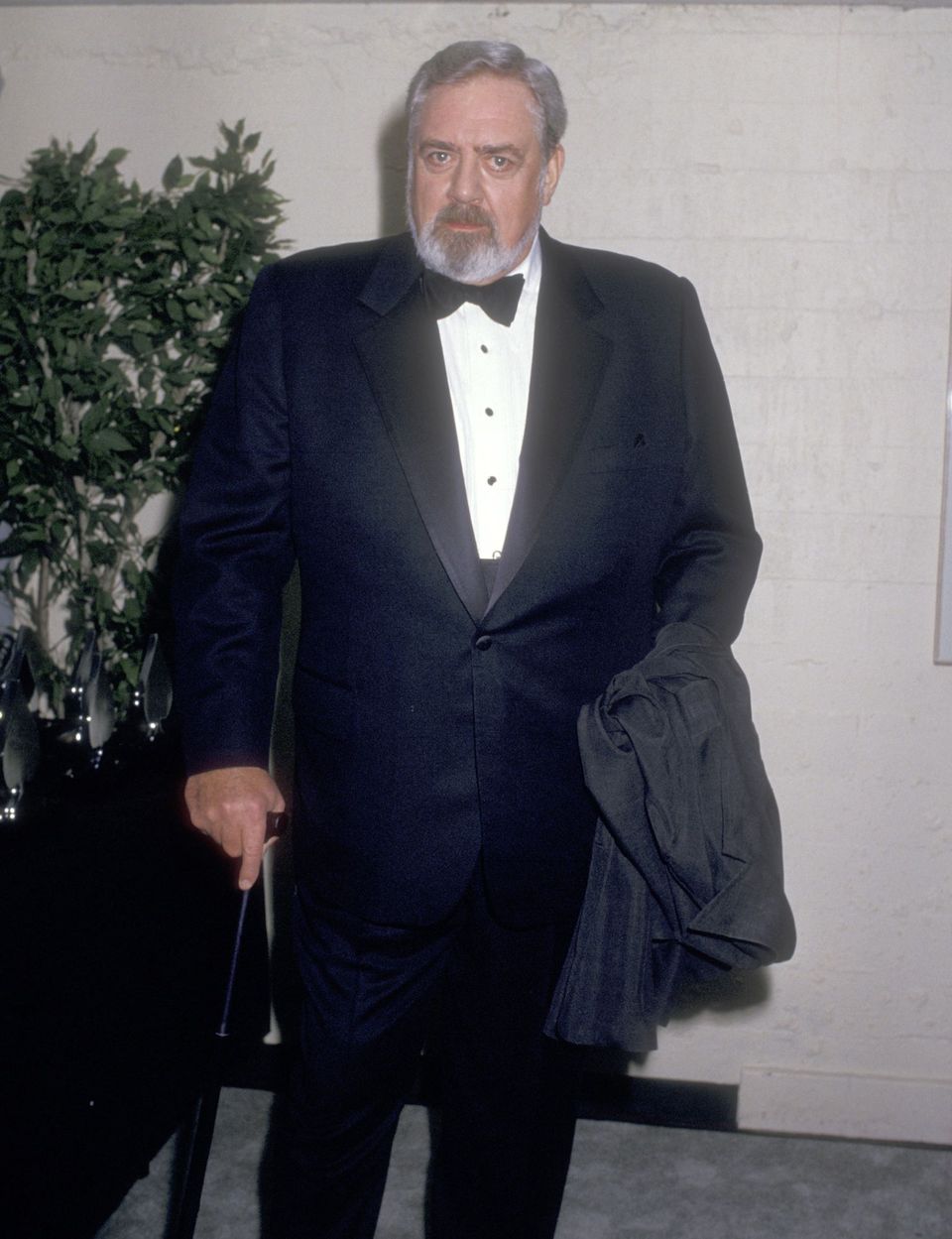 Raymond Burr at the Eighth Annual National CableACE Awards on January 20, 1987 at Wiltern Theatre in Los Angeles, California. | Source: Getty Images
They also became business partners and launched Sea God Nurseries, an orchid store, and a vineyard in California's Dry Creek Valley. When Burr was laid to rest, he left his entire estate to his beloved Benevides.
Burr was gay, but it was not a fact he was prepared to let the public know. Instead, he kept creating stories about his past, like making up dead wives, to keep up the charade that he was straight.
Nevertheless, he was a kind-hearted man who loaned money to anyone in need and generously donated to charity. He also sponsored foster kids from Italy and Korea.
Unlike Burr, the LGBTQ+ community now has an easier time coming out. A good example is the teen boy who unexpectedly came out to his father as gay and received overwhelming love and support.
Please fill in your e-mail so we can share with you our top stories!