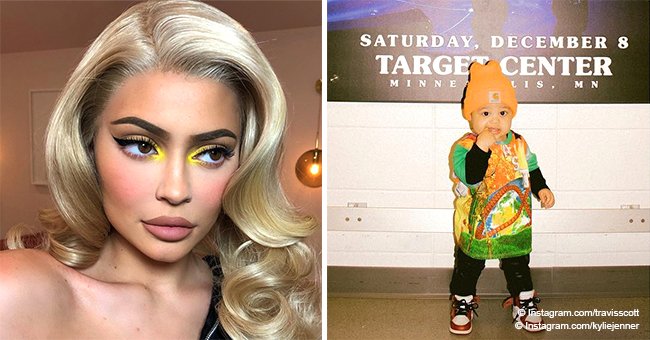 Kylie Jenner & Travis Scott spark debate after allegedly dressing daughter Stormi like a boy
Fresh from Travis Scott's cheating hoax and the controversy surrounding her Christmas tree, Kylie Jenner is mom-shamed for dressing her daughter like a boy.
First, it was her Christmas tree. Then it was the hoax involving Travis Scott's alleged cheating. Now Kylie Jenner faces another round of jabs for dressing Stormi like a boy.
Kylie Jenner must be at her wits' end keeping up with the flak she's been getting lately, the most recent of which involves her daughter Stormi.
Mother and daughter have been tagging along with daddy Travis Scott whose Astroworld tour is circling the country. The proud father recently took a moment to share a pic of their little girl standing in front of the tour's poster in Minneapolis but it was met with unexpected criticism.
Some fans thought Stormi's outfit was a little too boyish and mom-shamed Kylie for dressing her that way.
"You realize she's a girl right?" one fan asked. While another reminded, "She is a Girl not a boy."
Despite the backlash, many of Kylie's supporters slammed the haters for their small minds.
"It's 2018, and what's up with that? Apparently being a girl you gotta dress like a ca girl ?? Lmao, it's sad to have a mindset like yours. Let people freely ain't nothing wrong with that. And since when clothes determine gender?"
Another added,
"Nobody cares parents should be able to dress their kids however they'd like. Gender roles are dumb anyway — kids clothing used to be gender neutral for hundreds of years up until the 80s when they made girl clothes and toys (pink and purple) and boy clothes and toys (blue and green). I bet you if you looked at some of your grandparents baby pics, they would be wearing dresses, both the boys and the girls — shocker I know."
This controversy is the latest in a string of negative stories Kylie has had to deal with in the past week. She was also bashed for spending extravagantly on a massive, gold Christmas tree this year.
Moreover, her husband, Travis Scott was accused of cheating on her when a photo emerged alluding to him getting cozy with another woman. It turned out to be a hoax and Travis himself condemned the people who made up the story.
Christmas is just around the corner and Kylie could certainly use a break from all the drama. Here's hoping future stories about her family are merry and bright as the holidays should be.
Please fill in your e-mail so we can share with you our top stories!