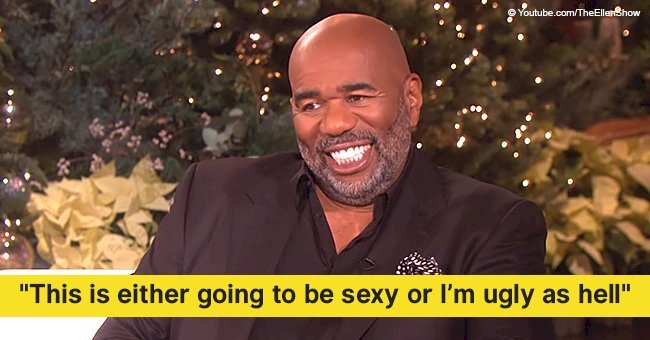 Steve Harvey reveals wife Marjorie's reaction after he stopped dyeing his mustache black

Steve Harvey recently opened up about what his wife, Marjorie Harvey, thinks about his new gray beard. The famed TV show host also shared an Instagram experience we can all relate to.
The "Family Feud" host recently stopped by "The Ellen DeGeneres Show," and when Ellen asked if his new look was on purpose, Steve replied:
"Kinda like that. I was on vacation and I actually left my Just For Men [hair dye] at home 'cause I had been dyeing my mustache, you know, black. So I was on vacation and I didn't dye it and the rest of it started growing in.Next thing I knew, I went, 'Damn! This is either going to be sexy or I'm ugly as hell!'"
As he confirmed though, his wife of 11 years, Marjorie, was in support of the new look. "My wife told me to keep it," he said.
"It's good. I love it!" Ellen quipped. "Does anyone not like it? It looks great!"
Steve then relayed his experience of Instagram, one that many of us know too well. The comedian told Ellen that there were some "haters." He added:
"Haters always, Instagram they just stay on there. I don't know what they do. They don't like nothin'! One dude said 'You look old.' I said, 'Wait a minute. I've been living more than half a century, plus a decade, plus two more damn years. Dawg, I am old!'"
Back in August, Steve told ET's Kevin Frazier that his new appearance was helping to shake things up, especially as he was about to launch a new season of his show, "Steve."
"This year we launched a new season, so every now and then I reinvent myself," the 61-year-old shared. At the time, he wasn't sure about keeping his new look and said it was up to Marjorie to decide if he should or not.
Not only is Steve ditching the hair dye, but he is also growing a beard, something that makes him look more like the grandfather that he is.
Unfortunately, the "Little Big Shots" host is not "as happy as most grandparents are." He explained jokingly to Ellen:
"My wife is really into this 'grandparent' thing, so she lets them stay over at the house, and I told her 'That's not how this is supposed to work. They supposed to come over and then go home.'"
Please fill in your e-mail so we can share with you our top stories!