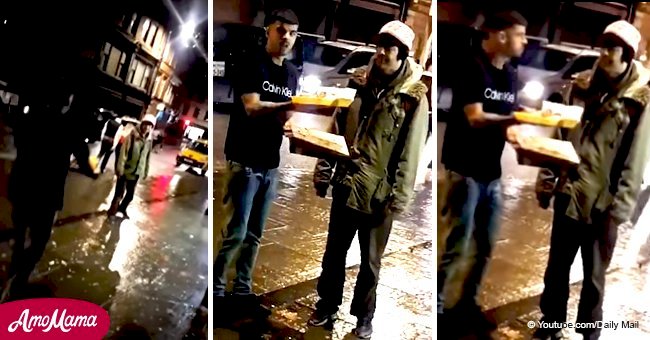 Man filmed slamming takeaway kebab into the face of homeless man sparks outrage

Attention got drawn to the growing homeless problem as a recently uploaded video sparked outrage at the abhorrent treatment of a homeless man.
The incident took place on Sunday in the Derby city center when a man got filmed throwing food into the face of a homeless man that walked around the area asking for money.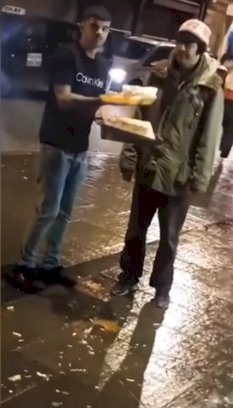 Source: YouTube/Daily Mail
The video got posted to Snapchat soon after and have since gone viral backed with a surge of backlash at the man who threw the food's actions.
In the video, the young man can be seen approaching the homeless man, who had been asking passersby for money.
Barely being able to contain his excitement he looked back at the camera before he smashed the takeaway food he had in his hand into the homeless man's face, and dashed off in a fit of laughter.

Source: Facebook.com/DailyMail
Read more on our Twitter account
@amomama_usa
.
After he saw the video, Phillip Ingall, director of Derby homeless charity PACE was shocked at the treatment of the homeless man and asked him to come forward. Drawing attention to the problems they face as a charity Phillip said:
"It shows what a sad state we're in that someone who is that desperate at that time of the night is willing to put himself in danger. The problem of homelessness is growing, and PACE needs an extra 100 spaces to keep up. Just think of that number. Whoever the man is, I urge him to come to PACE, speak to me or go to single-point of entry at the council to get some help".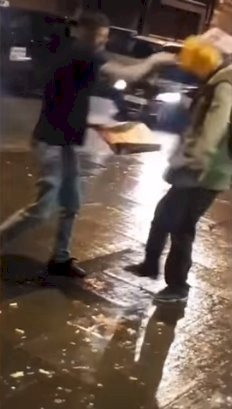 Source: YouTube/Daily Mail
The man who shot the footage apologized and explained how him recording the unfolding scene came about as he
said
afterward:
"I was out in the town, and I'll be honest, I had a few drinks when someone came up to me and asked me to start recording. I didn't know what he was going to do. What happened happened, and I'll admit I did laugh, but now I wish I didn't."

Source: Facebook.com/DailyMail
Showing remorse for his actions he
continued
:
"I really regret what I have done, and I wish I hadn't done it. I have since deleted it off my phone because I don't want to be attached to it. I want to send my apologies to the homeless man who it happened to. I don't condone this behavior, and I would like to find him to say sorry".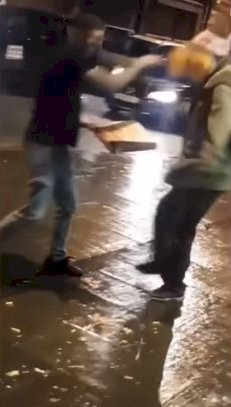 Source: YouTube/Daily Mail
The young man who threw the food at the homeless man, the 29-year-old Adam Thorpe,
came forward
to apologize for his despicable behavior. Of the incident that occurred at 2 am on Sunday Adam
said
:
"What I did was bang out of order. I know that, but I don't deserve the abuse I'm getting online. I'm no angel by any means, but I'm not someone who buys food just to throw at homeless people."

Source: Facebook.com/DailyMail
Adam said that he thought the man wasn't really homeless and that he had offered him £10 in return for throwing kebab meat and chips at his face. After the incident, he regretted his actions as Adam
elaborated
:
"I felt so bad for what I did afterward, and I spent ages the next day and the day after trying to find him to say I was sorry. 'I looked all around the center of Derby trying to find him, but I couldn't. If I thought that he was homeless, I never would have done it. I wish I could take it back."
Derbyshire Police Department confirmed that they are looking into reports of the incident.
In a heartwarming gesture quite contrary to that of Adam, Natalie Barnes reached out a genuine helping hand to a homeless man named Richard that climbed on the bus she drives in search of warmth.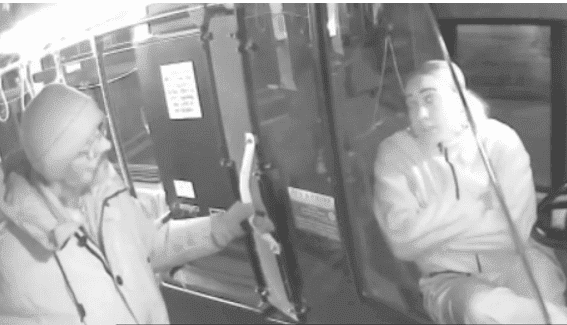 Source: Facebook/Milwaukee County Transit System
Natalie had found out that the Richard became homeless after his place of residence got condemned a week before and decided to do what she could to help.
After Natalie got him some food and allowed him to stay on the bus for the night, she arranged for Richard to go to a temporary shelter with the help of a friend.
The video has also gone viral, but for the right reasons.
Please fill in your e-mail so we can share with you our top stories!