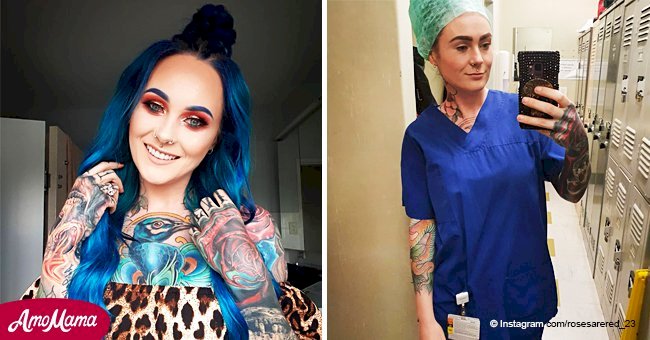 'World's most tattooed doctor' reveals the judgment she has faced because of her skin art
Doctors, as part of their job, have to present themselves as hygienic and clinical. Tattoos are not usually associated with this. However, one doctor is breaking this stereotype.
A 30-year-old woman, Dr. Sarah Gray, has experienced prejudice many times in her life due to her multitude of tattoos. She has been adding to her collection since she was 16.
Dr. Gray is the most tattooed doctor in the world, but her qualifications do not earn her the respect she deserves. She has been denied entry into designer fashion stores and restaurants due to her ink.
Read more on our Twitter @amomama_usa.
A TATTOO A DAY KEEPS THE DOCTOR AWAY
In the beginning, Sarah only wanted to get a few small tattoos, but she fell in love with the art form and started getting more ink every few months.
Dr. Gray is almost done with a complete body suit of tattoos and regularly attends body art exhibitions. One such exhibit was held at a casino, but Sarah and her friends were denied access.
It turned out that the casino had a policy forbidding anyone with visible tattoos from entering the premises. Looking back on incident Sarah says,
"Quite a few night venues seem to have this policy, and although it doesn't affect me very often as I hardly go out, it can be super frustrating when we get categorized as "bad people" or being gang afflicted due to our colorful skin."
Dr. Gray was also denied access at a Gold Coast restaurant with a similar policy and was ignored by three different shop assistants at a designer shoe store.
WAKANDA LEGS
Tattoos are not always a negative thing, as recently demonstrated by a tattoo artist from Raleigh when he used his skills to give a 10-year-old disabled boy the prosthetic legs of his dreams.
Michael Mack Jr had his leg amputated when he was just under a year old. Every year he needs to replace his prosthetic leg as he is growing.
His latest prosthetic leg was designed by tattoo artist Milton Purnell, who decided to make it "Black Panther" themed. The leg is black with a picture of the superhero and his name on it.
Michael's reaction to receiving his new prosthetic leg was filmed, and the video has since gone viral. In the video, the boy is happy and excited by his new addition.
SURGERY GONE TOO FAR
Not at all body modifications go as planned. A transgender woman from Italy, Fulvia Pellegrino, is a surgery addict but is not happy with her results. Therefore she wants to keep going for more until she is perfect.
Fulvia has undergone more than 150 surgeries for which she has spent a total of $76 000. She does not yet see herself as perfect and plans on having more work done until she is happy with what she sees.
Growing up in a very religious home Fulvia never expressed her desire to be transgender until she was no longer living with her parents, despite feeling like a woman since she was 15 years old.
Please fill in your e-mail so we can share with you our top stories!