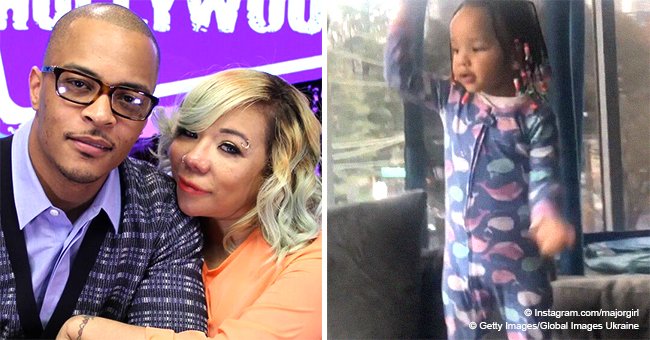 Tiny & T.I.'s daughter Heiress shows off her epic 'shoot dance' in hilarious new video
Tiny Harris is reminded of what a blessing her daughter is by a video of Heiress doing a hilarious "shoot dance."
Heiress Harris has just earned more likes with her latest dance video. The hilarious clip features the adorable 2-year-old perfecting a dance move she can't seem to tackle.
In the short clip her mother shared, the onesie-clad Heiress is on the couch instructing her mom to "do this!" while wiggling her arms to show her the move. She turns to the mirror and watches herself before jumping off the couch and trying out a more complicated dance known as the Shoot.
"I can't do it!," the little girl initially says while trying to kick her leg behind her with her head bent down. Then she seemed to finally nail the move and exclaimed, "See? I doing it!" to the delight of her mother and other people around her who laughed and cheered for her.
Tiny was especially amused with her baby and expressed her pride and joy in her caption.
"How can I help but be obsessed. My Shunshine, My Tootie, our Lucky7 @heiressdharris. #She'sSoSmartSheAmazesMe #BestJobEver #MamasGirl."
MOMMY'S MINI-ME
Tiny and Heiress have a special relationship. Not only are they spitting images of each other but Heiress can't get enough of her mother that she expects them to be together 24/7. A few months back, Tiny shared a photo of the two of them where Heiress clung to her tightly with her eyes closed. Tiny revealed in her caption the little girl was "where she wanna be" before adding "All over me!!" She also says Heiress thinks she's an only child.
DADDY'S GIRL
But Tiny isn't the only parent Heiress is drawn to. Her father T.I. has been a huge part of Heiress' existence and he dotes on her every chance he gets. From teaching her how to ride a bike to handing out Thanksgiving turkeys, Heiress is clearly also daddy's girl.
Please fill in your e-mail so we can share with you our top stories!