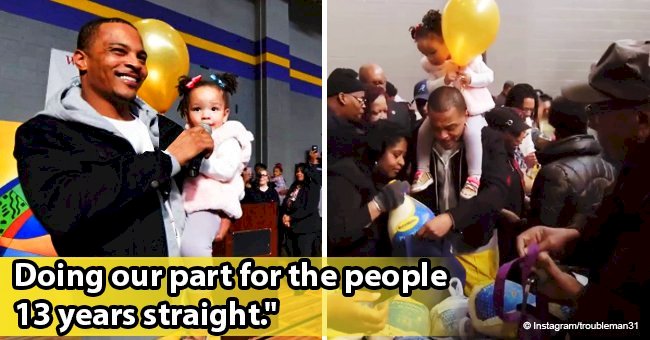 Tiny & T.I.'s baby daughter Heiress melts hearts while handing out Thanksgiving turkeys with dad
No one knows the exact status of Tiny and T.I's relationship, but despite their troubles, they continue to put their kids first. The rapper/actor recently took their last child on a daddy-daughter outing for charity, and it was a heartwarming sight.
As is their annual tradition, Tiny and T.I hosted the annual Thanksgiving Turkey Giveaway in Atlanta a day before Thanksgiving. The event was put together by T.I's non-profit, Harris Community Works, in conjunction with the Mayor of Atlanta Keisha Lance Bottoms.
CATCH THEM YOUNG
But beyond being a time to give back, the occasion became a perfect teaching moment for the dad-of-seven. T.I. was joined by his older kids who helped in handing out turkeys and other food items, but he also had his youngest baby with him.
In a video from the event, the "Dime Trap" rapper is seen holding his two-year-old Heiress Harris. The toddler smiled at recipients and observed as her family handed out food.
T.I wrote:
"We been there... filling the gap in our community... Doing our part for the people 13 years straight. And it's been an absolute pleasure. Always honored to do what we can for the community that was there for me first."
HER FATHER'S DAUGHTER
T.I is a doting dad to all his kids, but it's clear little Heiress has her famous Papa wrapped around her finger. And Heiress is a daddy's girl too.
In September, the "Identity Thief" actor shared a video of himself teaching Heiress how to ride a bike. Sure, it was a Minnie Mouse, outrageously-pink, four-wheel motorcycle, but we figure it's a good start for the enthusiastic tot.
Anyone can see how happy she is to be taking riding lessons from her daddy, but she's even more concerned with making sure he sees her.
"Do you see?! Do you see me?!" she repeatedly asks while riding off. "Teaching my baby how to ride early!!!" T.I wrote, adding that Heiress wanted to make sure he sees her working.
BABY MOGUL
A riding lesson is not the only thing T.I. and Tiny are teaching their baby girl. Known for their reality show, "Family Hustle," the couple is giving a new definition to the term with the launch of a cosmetic line for Heiress.
They announced the line after releasing "The Royal Collection" by Heiress Harris, a non-toxic nail polish brand. T.I already referred to her as "The Baby Boss" so we should expect big things from this little mama.
Tiny spoke about her relationship with T.I last year and explained how complicated things could get.
"I don't know. For us, I think that it's all in love, we just have a lot of love for each other. A lot of years in it, too. It brings us back to being on a certain page that we just can't keep running from."
"We can run from it for a minute and be like, 'Ugh, I'm through with him. I don't care nothing 'bout it.' But then love comes back and I'm like, 'Let's co-parent. Let me talk to you about this.'"
Despite the tumultuous history between T.I and his Xscape singer wife, they're doing a great job raising their blended family.
Please fill in your e-mail so we can share with you our top stories!