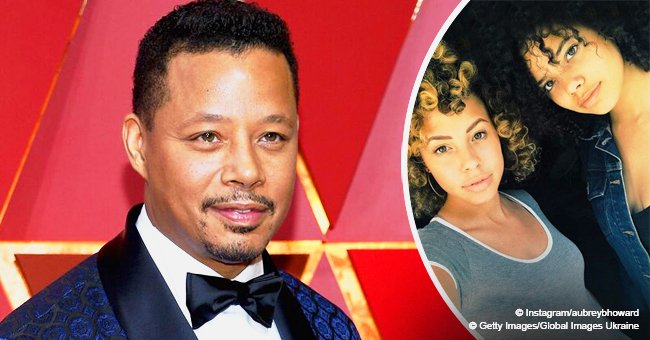 Terrence Howard is a proud dad to 2 adult daughters who bear a striking resemblance to him
Terrence Howard, the actor best known as Lucious Lyon in "Empire," has two grown-up daughters, Aubrey and Heaven, who look just like him.
Both ladies were born during Terrence and Lori McCommas marriage. Aubrey welcomed a girl to the world in December 2012 and a boy on February 15, making the actor the grandfather of two children so far.
The father of Aubrey's kids is Billy Gayle, who was married to her for a while. However, the couple is no longer together, and Aubrey came out as a lesbian.
On National Coming Out Day (October 11, 2017), she uploaded a photo talking about her experience, revealing that she came out in 2016 and it was "the most freeing experience."
"Allowing no one to get in the way of your self expression is one of the best things someone can do. Even though it may not always be easy, know that you being EXACTLY who you are will be ultimately rewarding for your spirit," added the yoga instructor.
Even though most of the images that Aubrey has uploaded on Instagram show her alone, the ones wherein she appears with her sister, Heaven, set clear that they have a beautiful relationship.
Out of the two of them, Heaven is the one who looks more like her famous father. However, she has a much more private life, so there is little-to-no information about her.
One of the things she did that made some headlines, though, happened in 2017. In a now-deleted Instagram post, she revealed that Terrence's current wife, Mira Howard, was trying to steal her smile by blocking her and her siblings from the phone of the actor.
"She has tried to tear my family apart. For what reason? Why did you act like you cared in the beginning? I was quiet and polite because I only wanted to bring us all together again, but now I can't even text or call my father because of you, so I'm saying something," confessed Heaven.
Those allegations apparently didn't cause anything (publicly, at least) in Terrence and Mira's marriage as the actor shared a sweet message for his wife on her birthday.
In the now-deleted post, Terrence wrote, "Happy Birthday my One and Only! We are celebrating it today on the 3rd because work had me away on the 1st of June your actual bday. You are my greatest friend, my warmest hug and my dearest love of all lifetimes!"
Please fill in your e-mail so we can share with you our top stories!