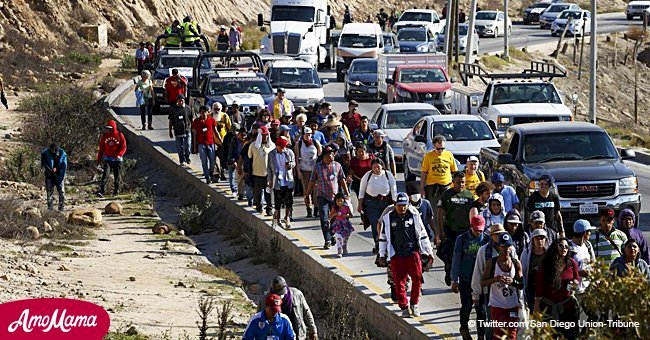 Caravan members urge Donald Trump to either let them in or pay $50,000 each to send them back

Central American migrants gave President Donald Trump an ultimatum: let us in or pay each of us $50,000 to go home and open a business.
On Tuesday, the American consulate in Tijuana Mexico received two separate groups of migrants. Each had a request directed at the president.
The San Diego Union-Tribune reported that the first group arrived around 11 a.m. and consisted of about 100 people. Their request was simple but it is eye-opening.
Follow us on Twitter for more @amomama.
They requested that the Trump administration give each of them $50,000. If not, they should allow them entry into the United States.
Alfonso Guerrero Ulloa is one of the group's organizers. A reporter asked him how they arrived at the figure, to which he responded:
"It may seem like a lot of money to you. But it is a small sum compared to everything the United States has stolen from Honduras."
Ulloa proposed that the money would be used to go back home and possibly open a small business.
The group reportedly included harsh words against American intervention in a letter to the consulate. It also proposed that the US remove Honduran President Juan Orlando Hernandez from his post.
The letter gave a time period of 72 hours for a response. The group did not outline any repercussions if the consulate did not fulfill their demands.
Another group arrived at the office around 1:20 p.m the same day. Around 50 persons had also put together a letter citing a need for quicker asylum processing at the border.
The smaller group further suggested that 300 persons be allowed entrance at San Diego's San Ysidro Port of Entry every day. Only 40 to 100 immigrants are currently passing through on a daily basis.
The letter reads:
"In the meantime, families, women and children who have fled our countries continue to suffer and the civil society of Tijuana continue to be forced to confront this humanitarian crisis, a refugee crisis caused in great part by decades of U.S. intervention in Central America."
In Tijuana, 700 of the estimated 6,000 migrants turned around and returned home. About 300 were deported and 2,500 opted to try for humanitarian visas in Mexico.
In the meantime, those at the border are either waiting in despair or struggling to cross illegally. Some have turned back in hopes of finding better lives elsewhere.
One couple took the risky route of crawling beneath the border. They took with them their eight-month-old son Daniel Mendez as they went through.
Joel Mendez and his son were pictured as they made their way to join Yesenia Martinez on the other side. Joel, 22, and his 24-year-old girlfriend made the decision last Friday.
In a photo, the father fed his smiling baby before crossing over despite risks of deportation. This week, it seemed like the risk has grown.
On Wednesday, the president sat with Democratic leaders senator Chuck Schumer and Nancy Pelosi to discuss criminal justice reform legislation.
Things took a turn when Trump insisted on border wall funding. The president gave his own ultimatum: give him $5 billion or he would shut down the government.
He said:
"I am proud to shut down the government for border security Chuck. So I will take the mantle. I will be the one to shut it down. I'm not gonna blame you for it. The last time you shut it down it didn't work."
The situation continues to develop as migrants at the border face perilous life or death situations.
Please fill in your e-mail so we can share with you our top stories!