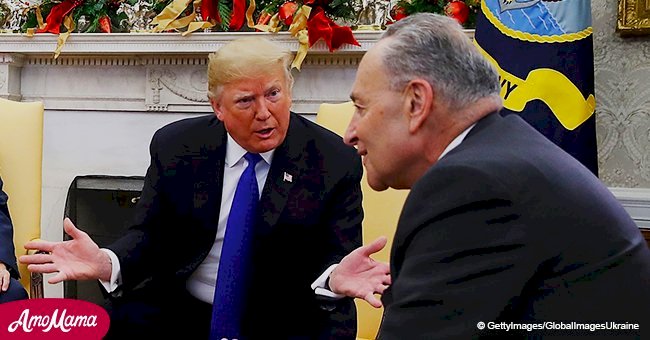 Donald Trump wants $5 billion for border wall or he will shut down the government
This week, President Donald Trump had a meeting with Democratic leaders Sen. Chuck Schumer and Nancy Pelosi with vice president Mike Pence watching quietly.
The meeting was for the two parties to come to an agreement on passing criminal justice reform legislation. However, things went downhill when Trump insisted on border wall funding otherwise he would shut down the government.
With regards to President Donald Trump attaining $5 billion for building a border wall between the US and Mexico, Nancy Pelosi, told him "you will not win."
"I will be the one to shut it down. I'm not gonna blame you for it. The last time you shut it down it didn't work" ~ President Donald Trump
Pelosi is the presumptive soon-to-be speaker of the House and she attended the meeting with Senator Chuck Schumer. The meeting spiraled out of control as Trump insisted on border security.
For more on this story go to our Twitter account @amomama_usa. The almost 13 minute long exchanges at the White House saw the president saying:
"I am proud to shut down the government for border security, Chuck. So I will take the mantle. I will be the one to shut it down. I'm not gonna blame you for it. The last time you shut it down it didn't work. I will take the mantle of shutting down. And I'm gonna shut it down for border security."
So far, Democrats are only willing to fund the wall for $1 billion before funding runs out on December 21. It was questioned earlier whether airing their grievances on national television was wise but Trump insisted that he wanted "transparency."
Vice President Mike Pence sat in on the brief meeting but said nothing. Outside after the meeting, Schumer and Pelosi told reporters that the shutdown would be the president's responsibility.
Pelosi stated:
"The president has the White House, he has the Senate, he has the House of Representatives, all in Republican control. He has the power to keep government open. Instead, he has admitted in this meeting that he will take responsibility, the Trump shutdown is something that can be avoided."
She further added:
"The American people do not need at the time of economic uncertainty, people losing jobs, the market in the mood and the rest, the Trump shutdown is luxury that the American people cannot afford."
If lawmakers can't agree on a federal budget, funding for some departments will run out at the end of next week. Despite the fallout, White House press secretary Sarah Sanders described the conversation as a "constructive dialogue."
If the two sides don't reach any solid agreements a partial government shutdown may occur. Congress has been in talks about the wall, Saudi Arabia, and farm policy as the date looms closer.
Please fill in your e-mail so we can share with you our top stories!