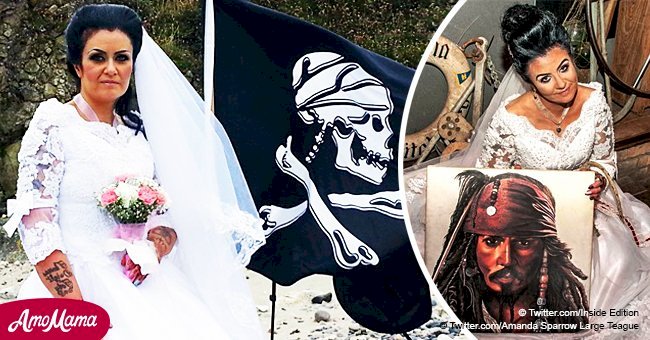 Mom of five who married the ghost of 300-year-old Haitian pirate is breaking up with him
A marriage usually takes place between two living people. However, a recent wedding saw a paranormal partner join the proceedings.
A 46-year-old Irish woman, Amanda Sparrow Large, enjoys doing impersonations of Captain Jack Sparrow from the "Pirates of the Caribbean" movies.
Amanda made headlines when she decided to marry her soulmate: the ghost of a pirate from the 1700s. The wedding took place on a boat as international waters allowed for the union to be legal.
Read more on our Twitter @amomama_usa.
FROM SOULMATE TO DIVORCE
She has admitted that one of the key factors that drew her to the spirit was that she is asexual and there is no pressure from a ghost to consummate the marriage.
Their first meeting took place beside Amanda's bed when the spirit, named Jack, appeared to her. She describes him as having dark black hair and olive skin.
In a recent social media post, Amanda revealed that she has divorced Jack. She fails to provide exact reasons for her decision, but she does warn her followers to be careful of spirits.
Amanda has had another marriage before this and is the mother of five children.
ANOTHER GHOST WEDDING
Amanda Large is not the only woman who has ever married a ghost. Amethyst, a 30-year-old woman from Bristol, is organizing a wedding where she will marry a ghost.
Amethyst met her fiance on a flight and a few minutes later they consummated their relationship in the nearby bathroom stall. Nine months later this was followed by a proposal from him to her.
The wedding will take the form of a Pagan ceremony in the English countryside. Speaking about the wedding ring Amethyst said:
"I'm hoping it will have an amethyst stone in it, but I'm leaving it to him to decide. After all, he's the one who proposed. It's his choice."
Please fill in your e-mail so we can share with you our top stories!