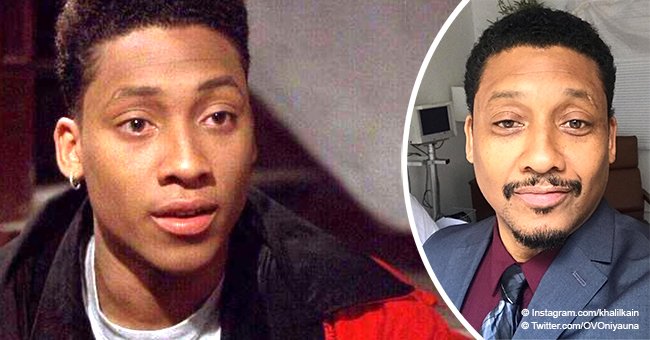 Remember Raheem from 'Juice'? He's aging in reverse at 54 and has a big & beautiful family
Khalil Kain is better known as Raheem in the iconic crime film "Juice," where he shared the screen with Tupac Shakur. These days, Kain is looking better than ever, he's 54 but looks at least twenty years younger, and he's still in the entertainment industry.
Khalil Kain was 27 when he did his big screen debut on "Juice," a movie that critics acclaim even today for its depiction of the life of young black people on neighborhoods with a high level of crime and violence.
MOVING ON
After the film, he went on to appear in several movies and TV series, including "Living Single," "Lush Life," "Girlfriends," "Elementary," "Misguided Behavior" and "Blue Bloods."
He is set to make his directorial debut with the film "Masters," which is under post-production at the moment and is expected to debut next year. Besides, Kain, now 54, is acting on theater, playing guitar and taking care of his beautiful family.
He's married to Elise Lyon, a fashion designer, and is the father of two grown-up kids: daughter Noa and son Luka even though is not clear if the children are from his marriage to Lyon or a previous relationship.
A MIXED KID
Kain's family has an impressive background, as he revealed in a recent interview for VladTV. His father was Gylan Kain, one of the founder members of The Last Poets, a group born from the civil rights movement in the '60s. It was formed of several poets and musicians that are considered the pioneers of hip-hop and rappers as we know it today.
His mother, on the other hand, is half-Asian, specifically Cantonese, so he has a mixed race. When faced with the statement that mixed kids were rare back when he was a kid, Kain said: "I don't know, I think that is a myth."
He went on to explain that in the neighborhood where he grew up there were kids with parents from several nationalities, Irish, Puerto Rican, Ukranian and more.
SEGREGATED L.A
To prove his point, Kain revealed that after living most of his life in New York, he realized how segregated is Los Angeles after moving there for a few years.
"It was shocking to me how it was separated by income, race, positioning, and jobs. I mean if you're living in Los Angeles and you are not in the industry in any way, you are kind of a pariah," he said.
The veteran actor is now waiting for a project, based on the caption from one of his latest Instagram posts, which reads:
"Trying to see what's next ... Fates be kind."
Please fill in your e-mail so we can share with you our top stories!