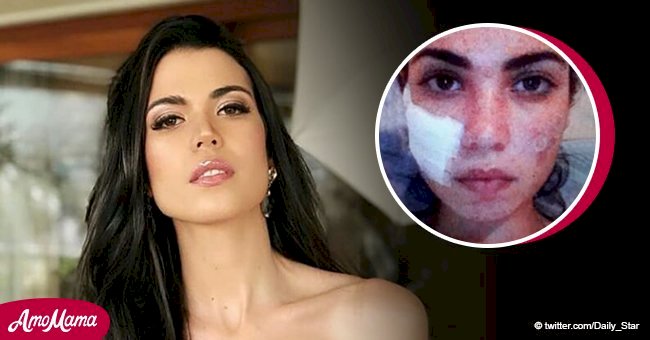 Miss Universe contestant reveals horror aesthetic procedure that nearly ended her career

The contestant of double nationality confessed that her life was almost ruined after undergoing an aesthetic procedure.
Andrea Díaz, a contestant for the Miss Universe 2018, was born in Venezuela but represents Chile. The young woman revealed everything that happened during and after the aesthetic procedure that caused a strong damage to her face.
The young woman believed that her life was ruined and she thought that she would never leave behind the horrible experience that she suffered due to a bad medical practice.
Her dreams were broken, but despite that, she did not stop fighting and did everything necessary to recover and shine in the most important beauty contest in the world. Read more on our Twitter account @amomama_usa
FROM VENEZUELA TO CHILE
"Yes, I have dual citizenship, my father is Chilean but Venezuelan in heart, and my mother is Venezuelan but Chilean in heart, I am happy and proud to represent in this Miss Universe 2018 in Chile, the country that saw me grow and that Years ago he welcomed me with open arms, in an era where I experienced one of the worst experiences of my life," said Miss Chile in her Instagram post.
Although she could be criticized for representing a country in which she was not born, she feels proud of her roots and proves it again and again.
A BAD PRAXIS THAT ALMOST RUINED EVERYTHING
Andrea's face showed strong wounds, a bad practice affected her remarkably and although it was something of routine her health was compromised.
"An aesthetic bad practice ruined my face, I went for something routine and returned to my house devastated, with my face burned with acid, of course, all my dreams collapsed: goodbye boyfriend, jobs, modeling and of course, goodbye Miss Universe", shared the Miss.
"What country would want to send a girl with her face burned? Like you, I thought the answer was no one. I lived almost a year and a half-hidden and I hope they can be able to put myself in my place. I do not wish to anyone, it is ugly, painful and affects so much emotionally that they do not even dream it," she concluded.
The Miss when she arrived in Chile began to have job offers in the modeling that gave her the necessary tools to trust her again, now she only thanks the country that offered her a hand and gave her an opportunity to succeed.
Diaz is now in Thailand preparing to win the Miss Universe crown next Sunday, December 16. We sure hope the best for her.
Despite plastic surgery can be risky; there are a lot of people who feel that it could be the best opportunity they have to change their lives.
That is the case of Twenty-four-year-old Celine, who spent almost 50,000 dollars to transform her body and to be someone completely different in just four years.
Celine was a happy teenager but her unattractive appearance caused her to be the center of the teasing and cruel comments of the other teenagers. As a result of this, the Swiss young woman decided to take action on the matter and saved money to change her appearance and situation.
Please fill in your e-mail so we can share with you our top stories!