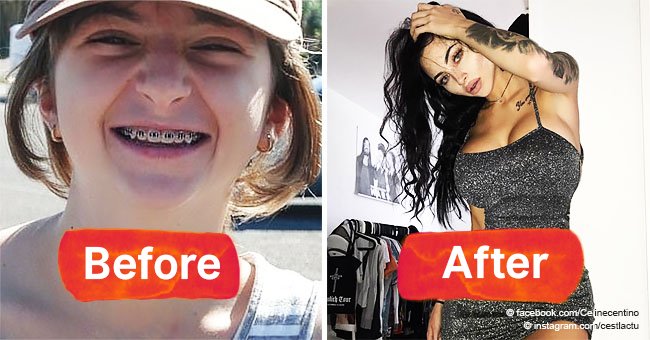 Victim of bullying spent almost $50,000 on surgery and now looks like a new person
Twenty-four-year-old Celine spent almost 50,000 dollars to transform her body and to be someone completely different in just four years.
Celine was a happy teenager but her unattractive appearance caused her to be the center of the teasing and cruel comments of the other teenagers.
"I was always a happy person, but I did not feel good on my skin. Many people judged me because I was "ugly" and I became a sad person," Centino told DailyMail.
As a result of this, the Swiss woman decided to take action on the matter and saved money to change her appearance and situation. Read more on our Twitter account @amomama_usa
In 2013 Celine began her transformation, which led her to change her life as well as her body and become a star of social media.
MONEY AND APPEARANCES ARE NOT ALL ... FOR SOME
Although Centino worked as a hairdresser, so she was not a big earner. However, she managed to raise almost 50 thousand dollars to change the shape of her body.
"I saved up a lot of money while I was young. I was never out partying in clubs until I was 18; I worked hard and spent all of my money on my surgeries," she explained.
The Instagrammer commented that she felt like never before after her first breast augmentation surgery.
"When I got my first breast job, it was an incredible feeling. I wanted more because I wanted to be more beautiful. Luckily, I had no complications," said Centino.
The woman has achieved so far 43 thousand followers on Instagram, and according to La Nación, has performed multiple surgeries among which are three breast augmentation, rhinoplasty and cheek, lips and chin fillers.
Currently, Celine is size 34 FF on her breasts. Her exaggerated changes in her face have made her the target of strange but positive comments, especially from her male followers.
CHANGES TO BE HAPPY
Celine is now happier than ever, and all the changes she has made in her life and her body, she made them looking exclusively for her happiness.
"If I came across any of my bullies now, I would ignore them. They never gave me a chance, so they don't deserve to talk to me," said Centino in a show of maturity.
Another case of overcoming the bullying is the story of Andy Albertson, who was called 'AndyOpolis' in reference to his excess weight and for which he was compared to a city.
Andy weighs 330 pounds and is now weighing 145 pounds according to the NY Post. This man from Texas along with the Swiss woman shows that it only takes determination to get some changes done in your life.
A change in your looks is an amazing self-esteem booster, like this time when a hairstylist and a couple of fashion experts who all work with celebrities and high-profile personalities worked together to transform the lives of two beautiful ladies.
Kathie Lee Gifford and Hoda Kotb picked two random ladies from the "TODAY" plaza and made them agree to a spontaneous makeover. The two women were happily obliged, the transformation had everybody's jaws drop the moment each of the ladies came out.
Please fill in your e-mail so we can share with you our top stories!