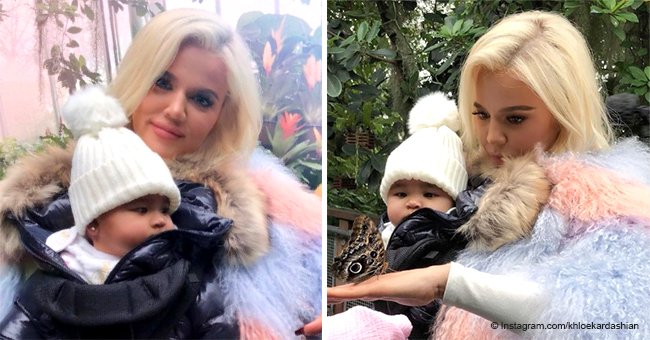 Khloé Kardashian & True Thompson melt hearts during 'magical' date at Cleveland Botanical Garden

Khloe Kardashian shares a photo from a lovely afternoon with True amid backlash surrounding her latest look.
Khloe Kardashian and her daughter True Thompson seem to be getting more acquainted with their home in Cleveland after spending a "magical" date at one of the city's escapes. Mother and daughter shared a lovely afternoon admiring insects and greenery at Cleveland's Botanical Garden.
Khloe shared snaps from the beautiful site where she wore a blue and purple faux fur coat and fashioned her newly dyed blonde hair. Her skin glowed with her flawless makeup that highlighted her eyes and noticeably puffier lips. She toted a bundled up True in her BabyBjorn and held a large butterfly in one hand.
FANS AREN'T HAPPY
While the family's latest outing couldn't be any dreamier, Khloe has been facing a lot of backlash surrounding her new look. Fans aren't too happy about her platinum locks and her plumped-up lips which seem to have greatly altered the reality star's appearance. Many think she's almost unrecognizable and morphing into her sister Kylie Jenner.
AMAZING POST-BABY BODY
Regardless, Khloe has been flaunting not just her pouty lips or new hair but her amazing post-baby body. Before sharing her garden photos, she posted a provocative black and white pic that seems to say she's more than back in shape. She was dressed in a Fendi swimsuit and her legs were smothered in mud but her defined abs took center stage.
HANGING ON TO HER MAN?
Many suspect the new mom is taking care of her appearance so she can hang on to Tristan Thompson, the father of her daughter. The couple's relationship has been muddled by a cheating scandal and though they seemed to have overcome that, it's possible the nagging feeling of distrust is still lurking around.
A VISIT FROM TRUE'S COUSIN
Meanwhile, Khloe just wants to establish a normal life for her daughter and that includes forging relationships with her cousins. An opportunity came recently when her sister Kim Kardashian sent her youngest daughter Chicago to Cleveland. She wanted to keep her away from the flu that was circulating in her home in Calabasas. Khloe babysat the ten-month-old who spent quality time with eight-month-old True. She also shared photos of the babies' sweet moments together.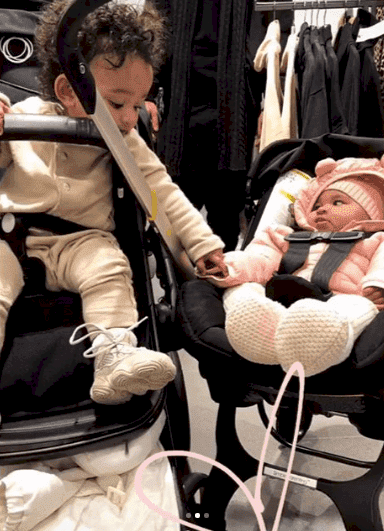 Source: Khloe Kardashian/Instagram/Screenshot by TheShadeRoom
There's a lot of love in Cleveland lately, thanks to Khloe's efforts in maintaining a secure environment for her daughter.
Please fill in your e-mail so we can share with you our top stories!