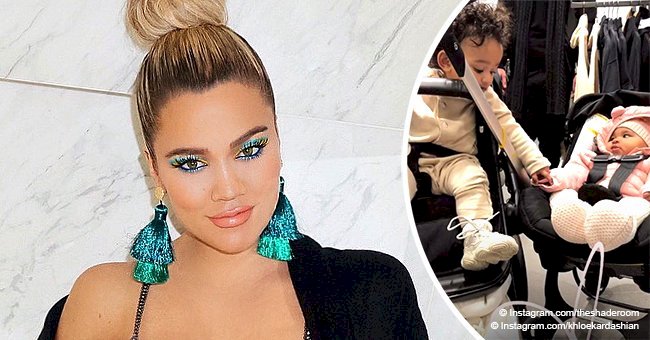 Khloé K. shares sweet moments between cousins True and Chicago while out in Cleveland
Khloe Kardashian has always been a doting aunt, and it's even better now that she's also a mommy. The reality star has been babysitting her sister's daughter and is enjoying every bit of it.
Kim Kardashian did not want her last child, Chicago, to catch the flu that was going around in her house, so she took precaution and had her sister to take her to Cleveland in Ohio.
Khloe, 34, who is a mother to eight-month-old True Thompson, couldn't have been more thrilled. She posted pictures of her daughter and ten-month-old Chicago sharing some precious moments.
In one snap, Chicago and True were holding hands despite being in different strollers. Chy, as she's fondly called, wore a neutral-colored onesie and white sneakers. True, on the other hand, was bundled up in a pink puffy coat with hoodie. She also had on a matching beanie and knitted booties.
In another photo, the cousins were fast asleep and secured in their car seats.
Kim explained the situation to Extra when they caught up with her at her product launch in California:
"Yesterday was a hard day because we have the flu going around. So once the flu happens, and I felt it in the house and my baby didn't have it -- Chicago -- I sent her to Cleveland with Khloé. So I said... 'Khloé, please take her for like four days, because she'll get sick [at home] with everyone."
Meanwhile, this will not be the first time Chicago and True hang out together. The cousins have even been to a party together, back in October when Khloe was celebrating True's six-month birthday.
Khloe organized the outdoor event that had in attendance other cousins like Kim's son Saint West, Rob Kardashian's daughter Dream, and Kylie's daughter Stormi Webster.
All five sat on a blanket spread out in the garden, and they looked pleased to be surrounded by a lot of cakes.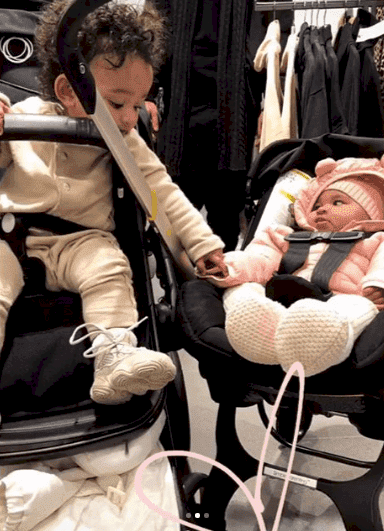 Khloe Kardashian/Instagram/Screenshot by TheShadeRoom
Chicago stole the show in an adorable Instagram picture shared by Khloe. While the others sat on the blanket, Chy was leaning over the cake and appeared to be taking a piece of it.
The hilarious action coincides with a recent insight offered by Kim into her last child's personality. After a fan asked on Twitter about Chy's demeanor, the "KKW Beauty" mogul answered:
"Very calm except for when she wants food lol She LOVES food! She has the best personality, so easy and chill."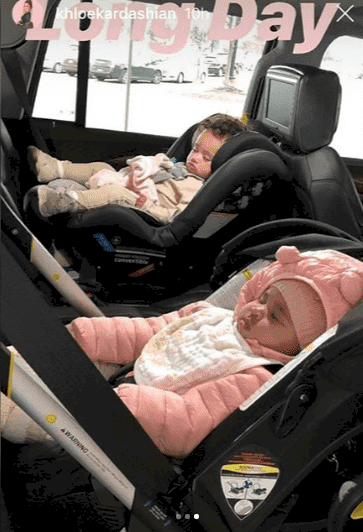 Khloe Kardashian/Instagram/Screenshot by TheShadeRoom
Please fill in your e-mail so we can share with you our top stories!