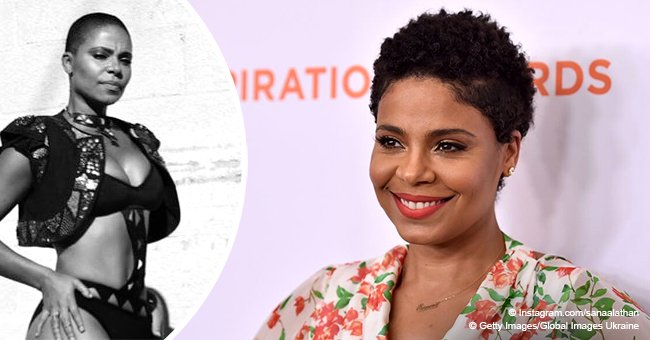 Sanaa Lathan leaves nothing to the imagination in cutout monokini and jacket in recent photo

Sanaa Lathan left little to the imagination in a cutout monokini and jacket while posing for a modeling shoot, and she looks absolutely stunning.
Lathan, known best for her acting on "Love & Basketball", proved that she did not just have a talent for acting, but also modeling. Dressed in a black monokini that accented her curves, black heeled sandals that flaunted her slender legs, and a black vest that gave her already-stunning attire an even bolder statement.
When she's not dressed up in a body-hugging monokini, Sanaa is as glamorous as can be dressed in the latest designer wear. She often frequents awards shows and charity galas, looking beautiful as ever. However, it wasn't always glitz and glamour for Lathan, who previously revealed that she used to be mistreated by other female actresses in Hollywood when she was just starting out.
While she was promoting "Nappily Ever After", she said that some women that people "may know" have treated her "just horribly". Of course, she did not call out any names, but she revealed that she got such a strong feeling of competition, jealousy, and just plain "weird vibes" while on set with this particular group of actresses.
Despite this, Sanaa was keen on becoming a great actress, and so she did not let these negative experiences shape her career and even her personality. Now that she is with "Nappily Ever After", she is thankful to be working with a group of people that shows nothing but inclusivity to everyone.
"When I was coming up, we were read fairy tales, and fairy tales is kind of what helps us determine what our values are as little girls. And when you read Cinderella…and you don't see yourself reflected, what does that do to you on a deep unconscious self-esteem way?"
Now, Sanaa Lathan is living her best life, and she hopes to continue doing what she loves while radiating positivity, self-love, and just good vibes to everyone around her.
Please fill in your e-mail so we can share with you our top stories!