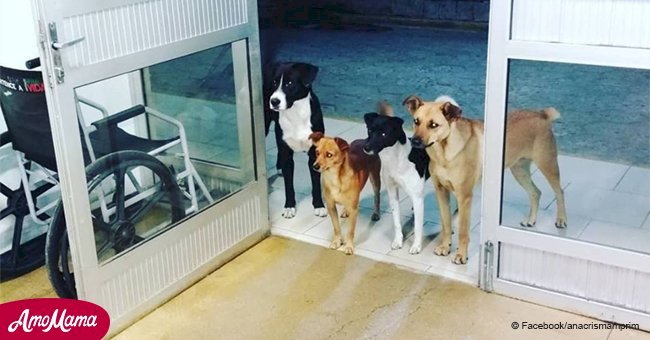 Homeless man comes to the hospital, but it turns out he's not there alone
The image of four dogs waiting at the door of a Brazilian hospital for their owner, a man on the street, to be treated, went viral in the last hours.
The event occurred on December 9 and was captured by a Cris Mamprim, an employee of the health center located in the municipality of Rio du Sul, Brazil.
"A person without luxury, who depends on help to overcome hunger, cold, pain, the evils of the world, has at his side the best companions," the worker wrote. Read more on our Twitter account @amomama_usa
"With so many bad people out there, today I came across that scene. At the hospital where I work, at 3:00 am, while his owner (street dweller) was being treated, his companions waited at the door," posted the woman on her Facebook wall along with the photo of the dogs.

Source: Facebook/Cris Mamprim
Baby, Nick, Nina, and Tico spent an hour at the door of the hospitable center until their owner, Cézar Gonçalves, was taken care of. "Without the animals, I am nothing," said the man.

Source: Facebook/Cris Mamprim
According to Mamprim, the man confessed to him that sometimes he stops eating to feed his faithful companions, "I do not know how his life is, because he is on the street, and I do not care, but I admire the respect and love he has. for their pets, "the young woman adds.

Source: Facebook/Cris Mamprim
The shared image in which you can see the four dogs waiting patiently at the door of the health center quickly became viral on social networks. Since it was published on December 9, it has reached more than a hundred thousand reactions.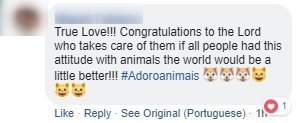 Source: Facebook/Cris Mamprim
Likewise, Mamprim confirmed that thanks to the release of this story, the man who owns the dogs will receive help. "There are more people in this same situation and they also need help," she said.
Another heartwarming image is the one of a dog who refuses to leave the entrance of a hospital in Sao Paulo, Brazil, despite it is been more than four months after its owner died.
In a similar story, a dog from the city of Hohhot, in the province of Inner Mongolia, has been waiting for 80 days on the same road where its owner died.
The video of the animal, published on Sina Weibo, the platform used instead of Twitter or Facebook, has already been viewed 1.4 million times. The Pear Video service said that the dog has been there every day since last August 21.
Please fill in your e-mail so we can share with you our top stories!