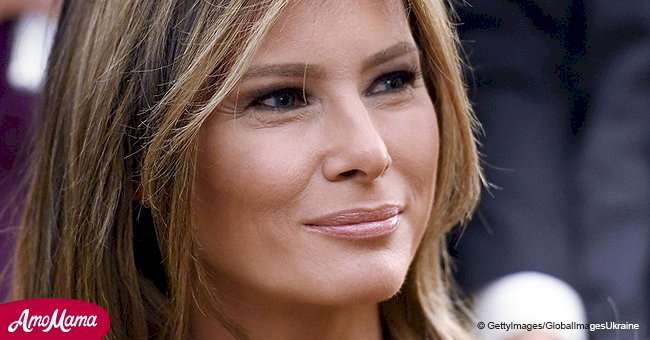 Melania Trump is unrecognizable with new blonde hair, and fans think the color is 'awesome'
Melania Trump is changing up her colors for the holiday season. It comes after two years of being a brown-haired beauty.
The first lady is now a blonde bombshell and Twitter is mixed as to whether or not it's working for her. She debuted her new look on Fox News on Wednesday.
Speaking to Sean Hannity on the network, Melania sat down to discuss the events of her week. It included several military-themed activities and a show of her support for the families.
Follow us on Twitter for more @amomama.
Melania, 48, rocked blond highlights earlier this week. It seemed the former model loved them so much she decided to cover her entire head in blonde.
Sticking to her signature wavy style, Melania beamed as she looked lighter with the changed color. After two years of being Brunette, it was a breath of fresh air for many.
For others, it was an opportunity once again to make fun of the FLOTUS. Some combined it with their anger at Trump, saying that the couple were matching for the holidays.
Others compared it with another member of the Trump family, stepdaughter Ivanka. The advisor regularly spots a blonde color and her father has even expressed he likes it.
Still others simply pointed out that the colorist could have done a better job, suggesting purple shampoo. If this one was the intended look, they said, Melania was clearly being punished.
Thankfully, some positivity flowed to the first lady from her fans who loved the new look. Many encouraged people to stop judging as a change in hair color most women do regularly.
During the interview, Melania also expressed her support of the controversial proposal Donald made to build a border wall.
She described the plan as "needed" in order to "protect [the country] from the drugs." The first lady also said that during her visit, she saw how the border patrol's hands "are full."
Regardless of whether or not people migrate into the country, Melania believes the wall will "stop big caravans coming over."
Melania also divulged her opinion on staying true to herself which she often uses for her anti-bullying campaign.
She said:
"I do what I think is right. I know I will get the criticism – from the public or from the media – but I will do what is right and what I feel is right for the country and for the people."
Please fill in your e-mail so we can share with you our top stories!