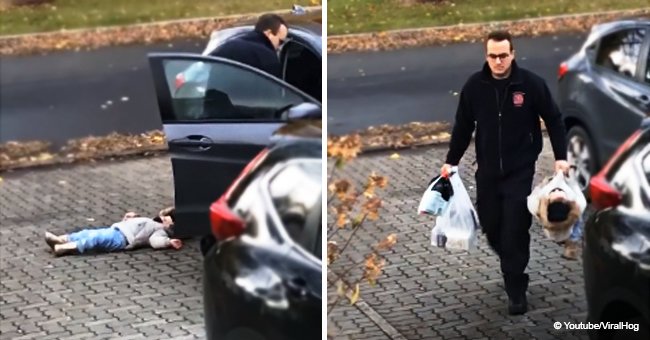 Dad carried daughter like a duffel bag after she refused to walk in viral video from 2018
Juliette was two years old when she became a viral sensation. The girl didn't want to walk anymore, but her father knew exactly what to do.
In the clip that her mother recorded from inside the house in Quebec, Canada, Juliette appeared lying on the ground of the driveway just as if she was exhausted of the "long day" she had.
Her father was picking up some bags from the passenger's seat of the car. He probably was not in the mood for asking Juliette to stand up and walk with him, so he just picked her up like another shopping bag.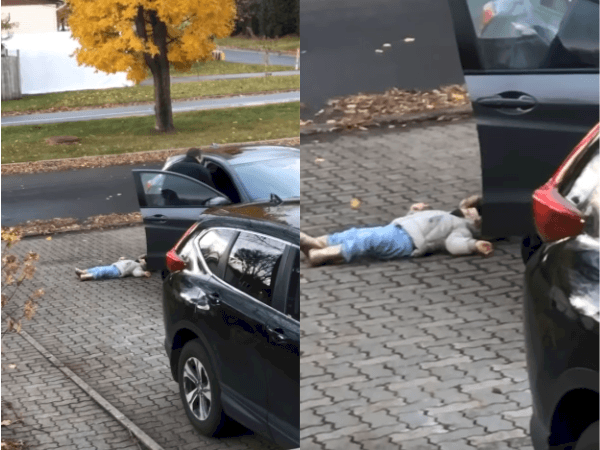 Source: YouTube/Viral Hog
HER MOTHER'S THOUGHTS
The mother, who laughed while recording, said that the funniest thing was that the jacket didn't break even though Juliette was more than three-feet-tall and over 37 pounds.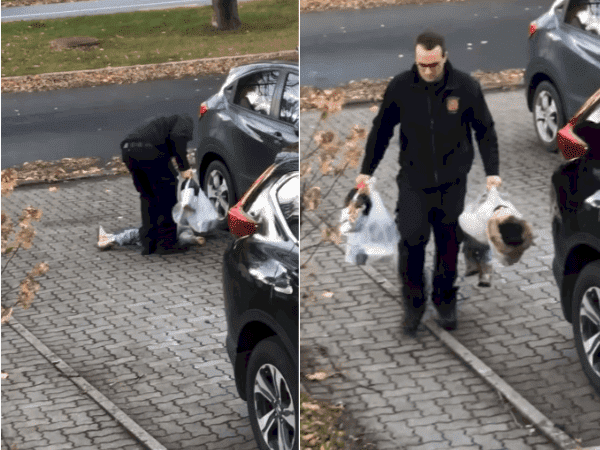 Source: YouTube/Viral Hog
She added that her boyfriend was getting back home from work and picked Juliette up from kindergarten. "She is a little girl who loves to laugh and make other laughs," said the mother, who later added that the girl did things like that all the time.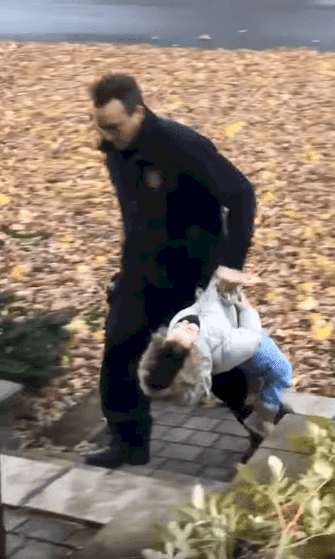 Source: YouTube/Viral Hog
It is not the first time that a father and his daughter make headlines over the way the man deals with a tantrum. Back in 2017, Terrel Crawford, an entrepreneur and motivational speaker, was in Walmart with his then three-year-old daughter, Ari.
ARI'S TANTRUM
Unfortunately, Ari started having a tantrum while in the store, so Terrel went live on Facebook to chronicle the incident. The live feed, which went viral, showed him waiting in the parking lot with Ari, who was crying on the hood of the car.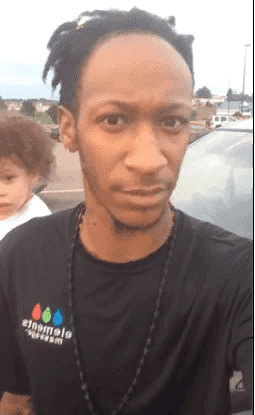 Source: YouTube/Mr Rico Relz
During the first few seconds of the video, the girl wouldn't control herself. Terrel showed no sign of discomfort at Ari's tantrum; he only stares at the camera in silence, waiting it out.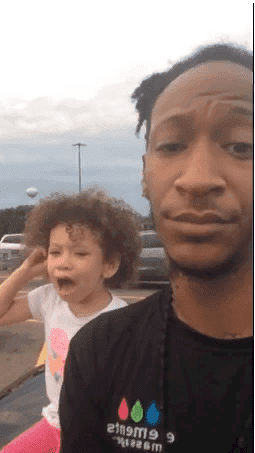 Source: YouTube/Mr Rico Relz
DEALING WITH IT LIKE A GROWN PERSON
After a few seconds, Terrel asks the toddler: "Are you finished?" he gets a slight nod from her before continuing in a soft but firm voice:
"I'm not going to take you to the Walmart until you stop with your mess. If you go back to the store and do it again, we'll come back here. We do not have to walk around the store with your mom. That is a privilege."
Later the man shared a piece of advice with other parents telling them not to spoil their children if they don't what that to happen. Apart from that, he said, "this is how you get your children to act correctly. Sit in the car, or sit somewhere that has nothing. No beatings, no scolding, no shouting."
Please fill in your e-mail so we can share with you our top stories!