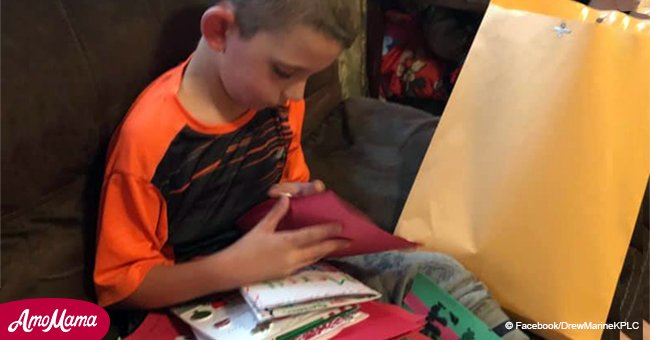 8-year-old boy with terminal brain tumor gets a surprise trip and thousands of Christmas cards

A little boy suffering from an untreatable brain tumor received thousands of Christmas cards from around the world.
Drake Quibodeaux from Louisianna is only 8-year-old, and he may not get much older. Nine months ago, Drake was diagnosed with a terminal brain tumor, Diffuse Intrinsic Pontine Glioma.
Now doctors have revealed that his tumor is growing, and a family friend of the Quibodeauxs decided to make the little boy's Christmas dream of receiving 190 cards come true.
"Please mail a Christmas card to Drake (8yrs old)! He was diagnosed with a terminal brain tumor (DIPG) in March of this year, and I'd love to flood him with cards this Christmas to show him how many people are praying for him and supporting him through this journey!"
Jennifer Virgadamo
AN APPEAL THAT HAS DRAKE'S MAILBOX OVERFLOWING
Jennifer Virgadamo posted an appeal on social media asking for Christmas cards to be posted to Drake, and the response was overwhelming - he even got a card from the White House.
The little boy has received thousands of cards as well as presents. Learning that he was a fan, the Fiesta Bowl organizers will be flying Drake to Arizona for the LSU Tigers' New Year's Day game.
Danielle Quibodeaux, Drake's mother, is concentrating on giving her son the best Christmas possible, and living each day to the full.
WHAT IS DIFFUSE INTRINSIC PONTINE GLIOMA
The tumor that is threatening Drake's life strikes children primarily between the ages of five and nine. Unlike most childhood cancers which have seen huge progress in treatment and positive outcomes for the tiny patients, children with Diffuse Intrinsic Pontine Glioma (DIPG) have a prognosis of 9 to 12 months after diagnosis.
DRAKE'S TUMOR IS INOPERABLE
Since DIPG usually occurs in the brainstem, a part of the brain which is responsible for breathing, sleeping and blood pressure, surgery is rarely an option.
"Last week, we got the news that his tumor was growing. At the start, they give you nine to 12 months. And on the 12th of this month, it'll be nine months."
Danielle Quibodeaux
Danielle Quibodeaux, Drake's mother, is concentrating on giving her son the best Christmas possible, and living each day to the full. She is heartened and moved by the support the community has lavished on Drake:
"We're blown away with the support. People will come up to me and they're like 'thank you for letting us take part in this.' I'm like, 'I should be thanking you.' I don't know why they're thanking me because it should be the other way around, but we're blown away,"
Happy Holidays, Drake, we are all praying for a Christmas miracle.
Read more on Twitter Amomama USA.
FLORIDA TEEN MIRACULOUSLY WAKES FROM A COMA
Christina "Chrissy" VanDerVelden is 17-year-old, and she suffers from cystic fibrosis, a progressive, genetic disease that causes persistent lung infections and limits the patient's ability to breathe.
Three weeks ago Chrissy fell into a coma, and her parents were told to prepare for the worst. Retired Navy veterans William and Alaina VanDerVelden, turned to God and started praying for a miracle.
And that miracle happened. On December 5, 2018, the VanDerVeldens got their longed-for Christmas miracle:
"When Chrissy's parents went to see her…the nurses told them they have a surprise! Chrissy was awake! (...) She can answer questions by nodding her head yes or no…Our Christmas Miracle is happening!"
This is a much-needed miracle for Chrissy's family who has been struggling with health problems. Her mother Alaina was hospitalized for West Nile virus, and her sister Alexis has Asperger's syndrome.
Chrissy is awake and smiling, but she still has a long road ahead.
In a related story, a little girl with an inoperable brain tumor has launched the Lemon Face Challenge to help her smile.
Please fill in your e-mail so we can share with you our top stories!