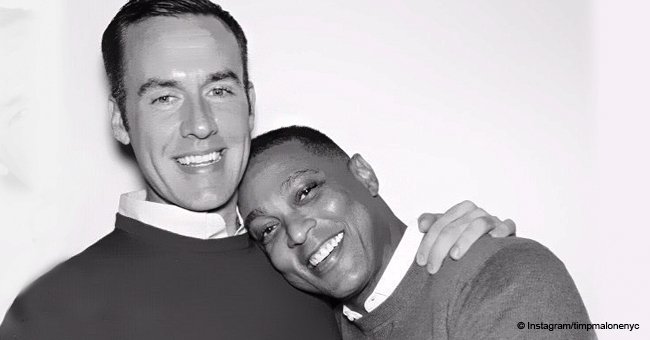 Don Lemon flashes sweet smile while cuddling with his boyfriend in recent photo
"CNN Tonight" host Don Lemon looks happy and in love in a new photo shared by his boyfriend, Tim Malone, on Instagram. Lemon came out as a gay man in 2011 and has been dating Malone for a year now.
Don Lemon is an infatuated man, and he cannot hide it. The 52-year-old journalist recently attended fellow CNN journalist Anderson Cooper's Christmas party, and his one-year-long boyfriend couldn't' miss on the fun. They shared two adorable pics from the party on their respective Instagram accounts.
The happy couple posed together with Cooper and his boyfriend, Benjamin Maisani, for a black and white pic in a party photo booth, and in another shot, Lemon cuddled up to Malone for a picture of just the two of them, smiling brightly to the camera in addition to their display of affection.
FANS' REACTIONS
"Always a good time with Anderson and Ben at the @andersoncooper360 holiday party. #merrychristmas #happyholidays," Lemon captioned his photo. While Malone wrote in his: "Christmas parties with @andersoncooper and @benjaminmaisani."
Fans took over both men comment section to gush about the cute couple:
"@gprissy4me: Love it! Love is love no boundaries."
"@talerdudansk: Such a handsome couple!"
"@lynncov: Oh you two. I'm happy to see someone be real, be who they are and live their life according to the heart. But Don Lemon…sigh you broke my heart."
COMING OUT
Back in 2011, Don Lemon surprised the world when he admitted his sexuality in an interview with the New York Times ahead of the release of his book "Transparent."
In the book, Lemon opened about his life growing up as a black kid and dealing with racism, colorism, the fact that he never met his dad, and being sexually abused as a child. He also talked about being gay and how scared he was of telling his mom his mom about it.
"When I finally mustered the courage to tell her that I had been molested as a child and that I was born gay, my life began to change in positive ways that I never imagined possible," he said.
Lemon stated that he never hid his sexuality from his co-workers, but realized that he needed to take the final step and make it public, hoping to help more people, especially in the black community, know they're not alone.
LEADING BY EXAMPLE
The pressure was so big and the doubts so haunting that, at one point while writing the book, Lemon thought about removing the personal side of it and leaving just as an inspirational guide for life. But in the end, he decided to leave it. He said:
"I abhor hypocrisy. I think if you're going to be in the business of news, and telling people the truth, of trying to shed light in dark places, then you've got to be honest. You've got to have the same rules for yourself as you do for everyone else."
"I think it would be great if everybody could be out," he said. Adding that, while he's aware everyone does it at their own speed, it would be better if everyone decided to live their life freely.
"I think if I had seen more people like me who are out and proud, it wouldn't have taken me 45 years to say it," Mr. Lemon said, "to walk in the truth."
Please fill in your e-mail so we can share with you our top stories!