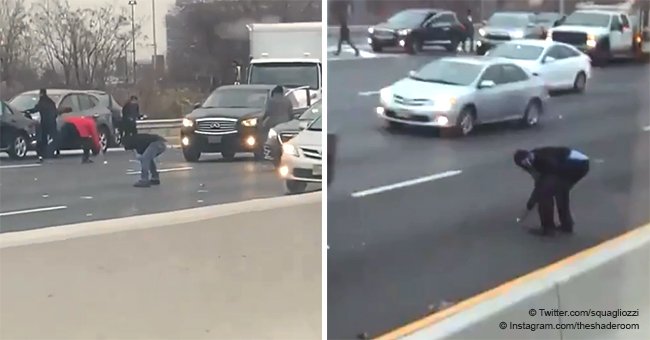 Drivers hop out of their cars & collect cash after armored truck spilled money onto highway

Drivers on New Jersey's Route 3 rushed out of their cars to collect cash after an armored truck spilled money onto the highway.
In East Rutherford, New Jersey, commuters on Route 3 were surprised to see the highway raining money after an armored Brinks truck broke down. After realizing that money was all over the highway, people got out of their cars to scoop up the cash that was all over the road.
At 8:30 am, East Rutherford police received calls from people saying that the truck was spilling cash along the 12-lane highway. Several people then hurried out of their cars to grab the money while other cars had to stall or drive around them just to pass.
According to the police, the commotion caused multiple crashes due to the sudden stop of cars. A passenger on an NJ Transit bus to New York City also said that traffic started to slow down on the route, but it didn't seem as if the truck was damaged. It is unclear whether there was a collision or if the truck's doors swung open. The passenger, named Betsy Richards, said that she saw a Brink's employee running through traffic trying to collect the flying money, but was too late. People were running around trying to grab cash on the highway.
"People were saying he's definitely going to get fired. It's Christmas for some and the loss of a job for another."
In May, another Brink's truck opened and spilled half a million dollars on Interstate 70 in Indianapolis. After seeing the ordeal, people then started jumping over fences and crawling on the ground to get money.
However, police both in Indianapolis and East Rutherford said that the money is not just gone. They track every single bill that was stolen will be traced, and they will arrest the thieves who have used it.
Please fill in your e-mail so we can share with you our top stories!