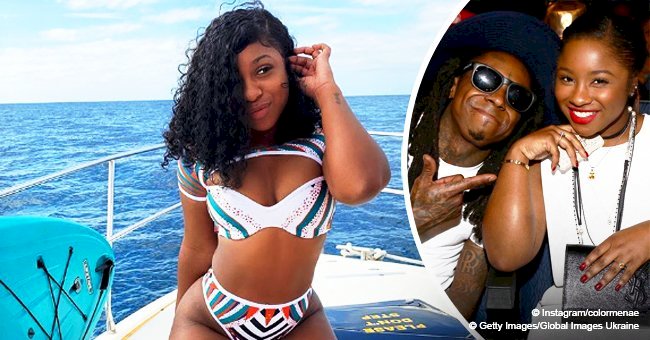 Reginae Carter harshly body-shamed after sharing photos from her epic birthday trip to Mexico
Hoping to immortalize her fun birthday trip to Mexico with her closest girlfriends, Reginae Carter shared photos of the fun bash on Instagram. Instead of receiving well-wishes for her birthday, she was heavily body-shamed by people.
The 20-year-old daughter of Toya Wright and Lil Wayne brought her friends to Mexico with her mom and younger sister, Reign Rushing. There, she showed off the stunning results of her weight loss journey, while lounging on a luxury yacht with her closest friends. However, instead of praising her for the progress that she's made, people have decided to body shame the "Growing Up Hip Hop: Atlanta" star instead.
Without hesitation, people started to say the most irresponsible, heartbreaking, and painful things that any person would not like to read. Hoping to just share bits and pieces of one of the most memorable trips of her life, Reginae instead had to deal with thousands of hate comments, calling her ugly, saying her hair is awful and even pointing out the most simple irregularities in her body.
Some even commented that Reginae looked like her dad with a wig on and that she looked 45-years-old while all her other friends looked youthful.
Reginae often responds to these trolls who give her a handful of mean comments, but this time, it seems she is having too much fun to care about what they've been saying. After all, she's had loyal fans to do the job for her. Clapping back at her haters, her fans have taken the fairy godmother role and defended the young girl on the internet. They asked Reginae to ignore the haters, and instead continue to live her best life as she always has.
"Girlfriend keep doing you. Haters going to hate and ballers going to ball. Keep balling like the baller you are. You're young and the sky is the limit. Live your life."
"Forget these haters because you didn't come to play. They mad because you stay slaying!!! Happy birthday BEAUTIFUL! Now keep making these haters MAD."
Hoping to flush away all the negative comments, others praised the 20-year-old for her natural beauty, and for her acceptance of the way God made her.
"Stay natural, Queen. You're beautiful just the way God made you."
"You're gorgeous honey. Keep up the great work."
Please fill in your e-mail so we can share with you our top stories!