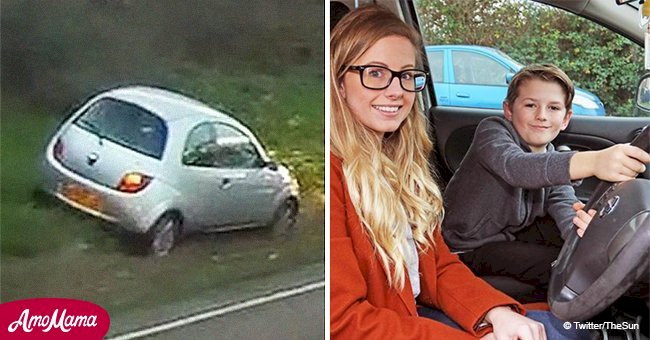 Mom having a seizure while driving forces 8-year-old son to take the wheel

The incredible moment when an eight-year-old boy took the steering wheel at 65 mph after his mum suffered a seizure saved many lives.
Dylan Howell, a 62-year-old taxi driver, was in one of the vehicles behind little Ben and his mum Lauren when she suffered the seizure and said:
"I saw the car veering off to the left. When I got alongside, I could see this young lady unconscious behind the wheel with really long blonde hair. She was collapsed, and I could clearly see her eyes were closed. Because Ben is so short, I could only see his arm hanging onto the steering wheel. He deserves a medal if it wasn't for his quick thinking there could have been a pileup."
Lauren's silver Forka Ka veered across lanes onto the hard shoulder where other road users including a work van, helped shepherd the car to safety.
Read more on our Twitter account @amomama_usa.
After the ordeal Lauren from Colchester said:
"My son is my hero, and he deserves recognition for his bravery…"
Following the incident, Lauren got taken to the hospital where a series of test got done while medics believe the seizure was caused by a virus.
The two were so lucky as the situation could have ended very differently. But what if there was a way to prevent a medical emergency like that?
Prevention is better than a cure and could prove life-changing for many if that was possible. Well, one engineering student from Sir M Visvesvaraya Institute of Technology, Bengaluru took a giant leap in that direction with his new invention.
Cardiovascular disease is among the leading causes of death in India, as with many other countries in the world, and Nihal Konan invented a pill that can warn between 9-11 minutes before a heart attack.
Driven by the painful death of two of his family members following a heart attack he worked for four years developing this potentially lifesaving technology.
Aayush, as the electronic pill is called, is a digestible electronic pill that gives early warning to an impending heart attack.
The electronic pill has ingestible micro-sized biomedical sensors and breaks apart as soon as it enters the stomach. A built-in system can predict changes in pH levels, body temperature, heart rate, and myeloperoxidase protein content.
Recorded levels are transmitted in the form of signals to a patch worn on the upper body. If a heart attack is imminent, it sends alerts to the closest hospital and family members via GPS.
Currently, still in the clinical testing stage, the electronic pill prototype already bagged 12 awards for its life-changing innovation and could change preventative measure in the medical field.
This electronic pill can be seen as the beginning of something that could spread into the prevention of situations where a medical emergency could lead to the harm of many, like with Lauren when she had the seizure while driving.
Until medical advancement takes the lead in the prevention of things like heart attacks and other medical conditions like a seizure, we are lucky enough to have a little help from our animal friends at times as well.
In June, a Pitt bull terrier named Amber witnessed young Tre having a seizure in the bathtub one night. He ran to Tre's parent's room and tried to get their attention as Tracey, Tre's mum said:
"We were sleeping, and she came in our room, and she just sat down right next to the bed, and she was doing this really low, like grumble. Not even a growl, it was just this odd grumble."
Amber didn't stop until Tracey followed her, which led to the discovery of her son and his medical emergency. The medics arrived shortly after Tracey called.
Tre got rushed to the hospital, and if his seizures went undetected a little bit longer, he could have suffered more serious medical complications.
Please fill in your e-mail so we can share with you our top stories!