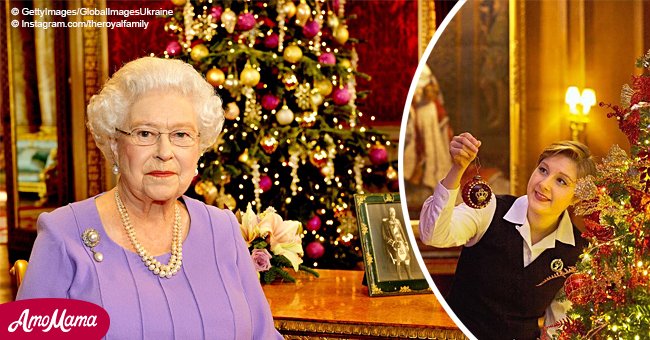 Queen doesn't take down Christmas decorations until February because of her late father
The Queen has a special tradition regarding her Christmas decorations, and its rooted in her past.
Christmas celebrations once extended for the twelve days between December 25, to January 6. Medieval traditions had the end of Christmastide as the day when the Magi saw the baby Jesus and gave him their gifts.
All around the world, wherever Christmas is celebrated, it is also the day when all the Christmas celebrations are taken down, Everywhere, that is, except in Queen Elizabeth II's homes. Her Majesty leaves her Christmas decorations hanging until early February, and her reason is heartbreaking, reported The Mirror.
"It all seems so unbelievable still that my father is no longer here and it is only after some time has passed one begins to realise how much he is missed."
Queen Elizabeth II, March 3, 1952.
THE ROYAL TRADITION STARTED WHEN THE PRINCESS ELIZABETH BECAME QUEEN
Queen Elizabeth, 92, is the longest reigning monarch in the history of the United Kingdom, and her reign started when she was just 25.
The then Princess of Wales was on a visit to Kenya with her husband Prince Phillip when the news of her father's death reached her. It was February 6, 1952, and that date became forever engraved in her heart.
Queen Elizabeth has forbidden the removal of the Christmas decorations in her home until the anniversary of her father's death.
KING GEORGE VI DIED YOUNG
The Queen's father, King George VI died at the age of 56 at his favorite home, Sandringham - and that is where the Royal family spends every Christmas.
The King's health had suffered from the stress of leading his country during World War II, and in addition, he was a heavy smoker. He developed lung cancer, and became progressively weaker.
KING GEORG SAW PRINCESS ELIZABETH OFF A WEEK BEFORE HIS DEATH
The then Princess Elizabeth left for her visit to Kenya and Australia on January 31, 1952, and against his doctors' advice, the King insisted on seeing her off at the airport. A week later, the King passed away in his sleep.
THE CHRISTMAS DECORATIONS ARE A TRIBUTE TO KING GEORGE VI
Since then, Queen Elizabeth has forbidden the removal of the Christmas decorations in her home until the anniversary of her father's death. Her Majesty remains in residence in Sandringham every year until February 6, and that is when Christmas is officially over for the Royal family.
A sweet and moving way to commemorate the life of a shy, gentle man who had never wanted to be King, and had to face one of the greatest challenges of any British Monarch in living history.
Read more on Twitter Amomama USA.
THE PRINCE WHO NEVER WANTED TO BE KING
King George VI was the second son of King George V and Queen Mary of Teck. He was known as Prince Albert, and his friends and family called him Bertie.
A shy man, Prince Albert suffered from a stutter which manifested itself when he had to speak to strangers, or in public. He never thought he would be called on to be King, since his brother David was Prince of Wales, and would inherit the crown of the United Kingdom.
When King George V passed away in 1936, the Price of Wales became King Edward VIII, but soon it became clear that the monarchy was facing a crisis. The King was in love with an American divorcée, Wallis Simpson, and he was determined to marry her.
The country refused to accept Simpson as a future Queen, and King Edward VIII abdicated. Prince Albert was thus forced to take up a position completely unsuited to his character and his temperament.
He became King, and led his country valiantly through the Blitz, staying in London and risking his life and his family along with the Londoners. King George VI's service to his country took a heavy toll on his health, and he died at the age of 56.
Please fill in your e-mail so we can share with you our top stories!