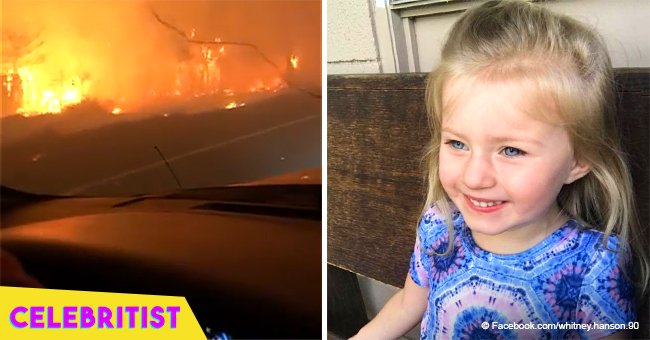 Video of dad singing to daughter, 3, to calm her during California wildfire went viral in 2018

Joe Allen, the proud father of a then three-year-old girl named Olivia, was driving through the flames with his family evacuating from the dangerous Camp Fire.
In the video that Whitney Allen, Joe's wife, uploaded to Facebook, the scary situation was evident. They were in the vehicle surrounded by several other cars that were trying to leave the risky zone of Paradise, California.
Apart from the fog that made things more difficult, Joe's family got to a point wherein the flames were a couple of meters away from them. Olivia was scared, but she behaved like a grown child as she didn't let her emotions overwhelm her.
GETTING AFRAID
The girl only said "Uh-oh. Why is fire here? We're going to get on fire." Joe knew that he had to say something to assure his daughter that everything would be fine, so he said:
"Hey, guess what? We're not gonna catch on fire. We're gonna stay away from it and we'll be just fine, OK? We're doing all right [sic]." A second later, he sang, "Baby it'll be alright!"
MAKING HER FEEL SAFE
As Joe was driving their way out of the fire, he kept distracting Olivia and telling her that everything would be fine and that they would come back home when it's more "Princess Poppy," referring to the character from the film "Trolls."
At some point, the toddler couldn't see her mother's car and got worried about it, but the proud father reassured her that everything would be okay.
When the three-minute video ended, Olivia told Joe, "you did it! You did it!" evidently happy for driving past the flames. Joe responded, "we did it together!" The family went to Chico while the fire ceased. Camp Fire devastated almost the entire town of Paradise, where Joe and his family live.
HELPING A VETERAN
Another victim of the California wildfires was Lee Brundgie, a 93-year-old veteran who barely had time to leave his house in Paradise before the Camp Fire burn it down. The World War II senior fled to a parking lot outside of Paradise where survivors had gathered in a makeshift shelter.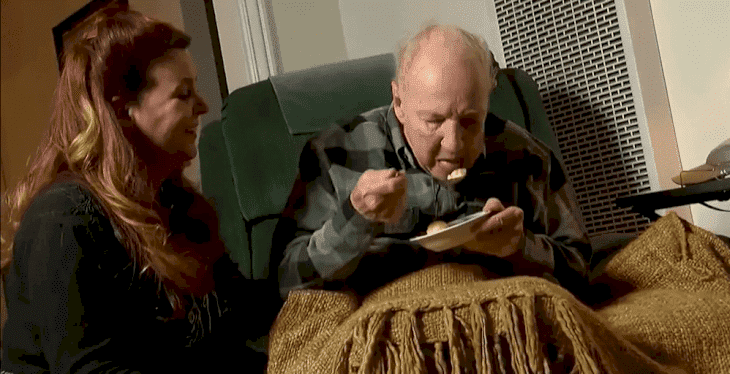 Source: YouTube/Inside Edition
There, he met Tracy Grant, a volunteer who was handing out hamburgers for those who had lost everything. Lee turned down her offer of food asking her to give it to someone who was hungrier.
After a while, the parking lot had to be clear following instructions from the local sheriff department. Most people were going to be evacuated to some shelter, but Tracy didn't want to leave Lee on his own, and he had nowhere to go, so she offered her house without hesitation.
Please fill in your e-mail so we can share with you our top stories!