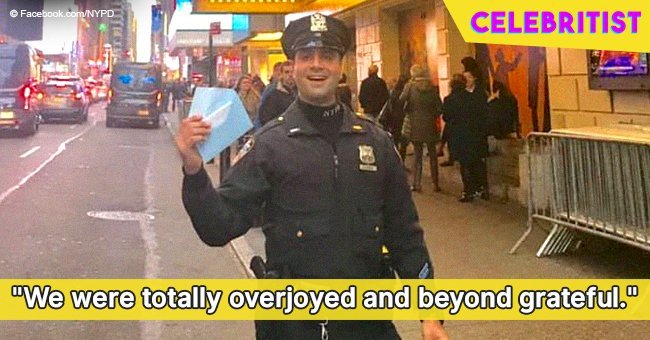 NYPD officer who gave $20 so stranger short on money can watch a musical still touches hearts

A New York cop helped an Irish tourist and her family to see a Broadway musical but had no idea how much it meant to them until he got a letter.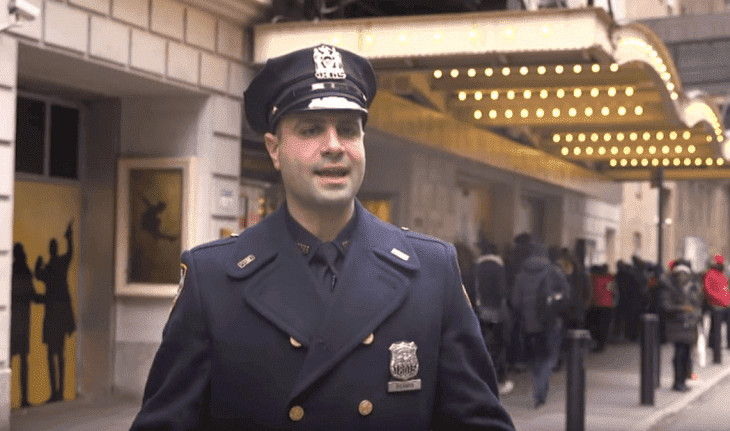 YouTube/Inside Edition
Officer Ricardo DiCandia was on duty in New York City when he had an experience with an Irish tourist visiting for the first time. Geraldine McKenna and her daughters thought their New York trip was the perfect opportunity to see the hit Broadway musical "Hamilton." They stood in line for days to get tickets, but sadly, when it got to their turn, McKenna was told she was $20 short.
In a moment of panic, she decided to reach out to a nearby NYPD officer. She explained her plight to the officer, and he stepped in and saved the day. DiCandia narrated the encounter to Inside Edition:
"They kind of ran up to me, very frantic. They were like 'please officer, can you help us? We finally got a chance to buy Hamilton tickets and I'm $20 short. I don't have a debit card. I can't go to the cash machine, and we have to run back. They gave us like five minutes to get the money or else they're gonna give it to the next person.'"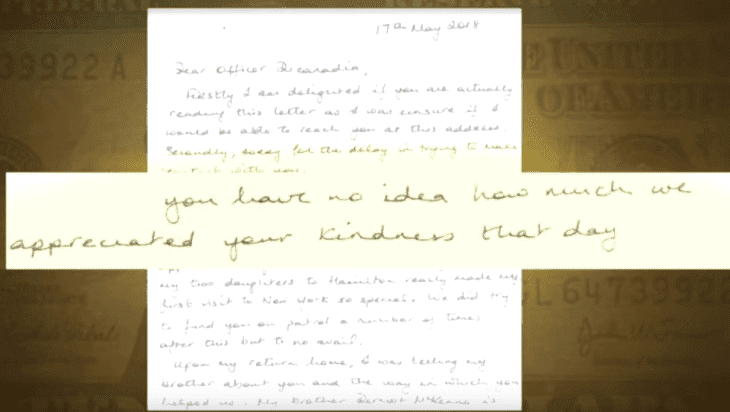 YouTube/Inside Edition
Officer DiCandia from the Times Square Unit offered her $20 to make up for what she needed. "He understood the magnitude of the emergency and pulled a 20 out of his pocket, so she didn't have to throw away her shot," the NYPD captioned their Facebook post on the officer's actions, referencing a line from the Broadway musical.
The New York police officer had never seen "Hamilton" before, but he made it possible for the Irish tourists. McKenna and her family enjoyed a great show thanks to the random act of kindness.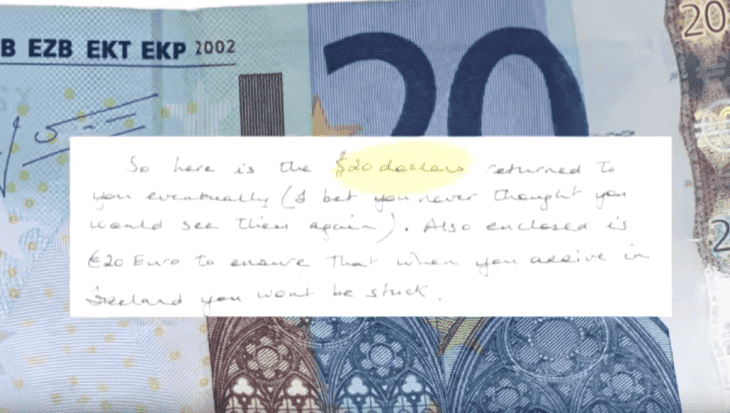 YouTube/Inside Edition
McKenna returned to Ireland, but she never forgot the good deed of DiCandia. She sent a letter all the way from her home to the office of Bill de Blasio, New York City's mayor. The note was heartfelt gratitude for Officer DiCandia's kindness.
"We were totally overjoyed and beyond grateful when he opened his wallet and just handed us $20," she wrote. "My eldest daughter was crying when she was speaking to him."
"It was without doubt the best night that would not have been possible without Officer DiCandia's generosity and kindness."
In a surprising turn of events, McKenna included in the letter the $20 the generous cop gave them. She also slipped in 20 Euros for when he decides to visit Ireland.
Officer DiCandia could not hide his shock at the woman's actions as he had almost forgotten about the whole scenario.
"The interaction between me and her was so quick that I almost forgot about it," he admitted.
The incident was reported in November of 2018 but continues to touch hearts till this day.
Stories like this help restore our faith in the integrity of the Police force. Considering the increase in cases of police brutality, it's good to know there are still good cops out there.
For 2017 Christmas, the Hiawatha police department in Iowa also impressed social media users with their Secret Santa program that involved handing out a $100 bill to community members in need.
Please fill in your e-mail so we can share with you our top stories!