NYPD officer goes viral after belting out Backstreet Boys' 'I Want It That Way' over intercom
An NYPD cop has become the internet's latest star after he was filmed belting out a popular Backstreet Boys tune over his car intercom in Manhattan. Scroll down for the hilarious video.
Officers Richard Gunther and Bill Hunz were on patrol duty near Astor Place in the East Village where they parked their car on Saturday.
@backstreetboys found your biggest fan https://t.co/6KWVpVJPb0

— hailey⁷ 🌱 (@miss_hsara) November 12, 2018
Probably to pass the time, Gunther began playing the 199 hit song, "I Want It That Way." He did not only sing along but also brought passersby in on the fun with the public address system in their car.
Excited New Yorkers gathered around to capture the amazing scene on their cellphones as Gunther's partner, Hunz, continued smiling.
One woman was heard saying in the background, "That's going viral for sure" and the crowd rolled out the cheers for the singing cop as he belted out the final note.
.@backstreetboys to perform "Chances" on @NBCTheVoice https://t.co/5tz8G3iWCv pic.twitter.com/JSHjofvN97

— billboard (@billboard) November 12, 2018
Instagram user, Jordan Haskins, who shot the clip that has now gone viral, said he was walking to his office around 1:45 p.m. when he came upon the scene.
Haskins told Daily News:
"He had just started singing and people were like, 'What's going on?' because you couldn't really understand it at first. Then everyone realized he was playing the Backstreet Boys. Afterward, he was like, 'Hope you all have a good day today, happy holidays.'"
Haskins, 27, also said Gunther's actions brought a smile to his face. "With all the stuff going on in this political environment, cops can get a bad name. When the NYPD does stuff like this, it really shows people that these are real people too," he shared.
#WhatAreTheChances the #NYPD like the #BackstreetBoys https://t.co/AnNywURB7n

— Nick Carter (@nickcarter) November 11, 2018
Haskins posted the video on Saturday with the caption:
"The NYPD absolutely nailed it today. So cool to see the humanity in our law enforcement. A small thing like this can really give you some hope in such uncertain times."
SEE IT: NYPD cop belts Backstreet Boys hit song from his patrol car https://t.co/sXYiYYipQC pic.twitter.com/sriPxY0XlP

— New York Daily News (@NYDailyNews) November 11, 2018
The singing man in blue left a reply to Haskins' post, saying he was glad he could entertain and make people laugh. Hunz also commented, saying: "thanks for the laughs today Rich… No other person I'd rather ride around with all day! #communitypolicing"
The two officers are from NYPD's 9th Precinct.
"UPTOWN FUNK" POLICE
The Norfolk Police Department in Virginia also went viral after they participated in a lip-sync challenge and performed to Bruno Mars' hit track, "Uptown Funk."
What made their show even more spectacular is the fact that they started with only six officers dancing and lip-syncing, but by the time the hilarious clip ended, the group was many times larger, with firefighters and administrative personnel joining the train.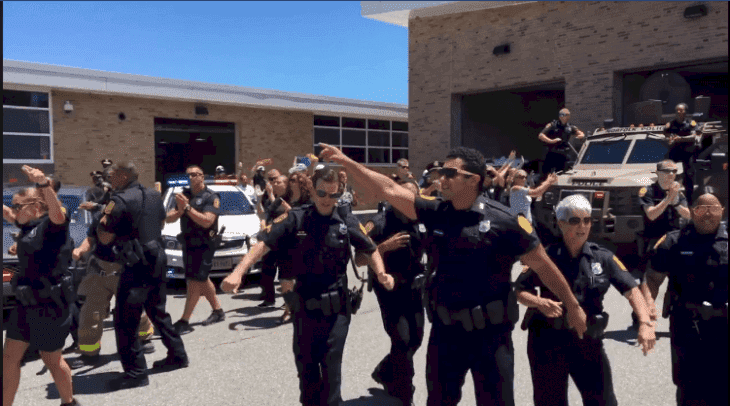 It was quite a show!
Read more and see the amusing video here.