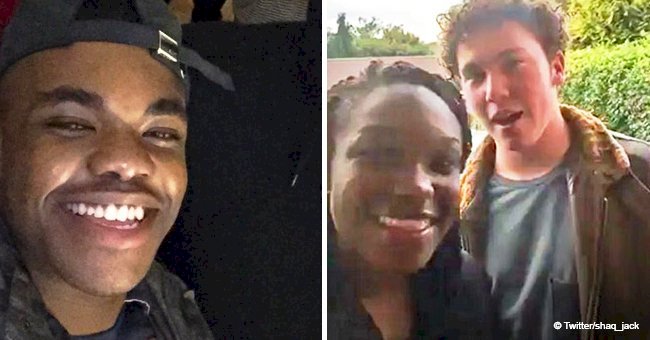 Video of overprotective brother interrogating his little sister's first date still warms hearts
While meeting the parents can be a terrifying experience to any guy who wants to get serious with their girl, this teenager passed his first test with aces after being interrogated by his date's big brother. The man recorded the entire interaction, and it went viral on social media.
Shaquille Jack, like many other big brothers, take their role of protector very seriously. So, when he learned that his little sister, Rochelle, was going on her first date, he stepped up and asked her to bring the guy forward so he could "regulate" and his "brotherly duties."
Hesitant at first, Rochelle didn't have another choice but to invite her date, Owen, to her door, where Shaquille was waiting with his cell phone on hand and some sharp questions on his tongue. First, he asked the teenager's name, followed by his age, 18, and what were his intentions with Rochelle.
Good guy Owen handled the interrogation with class, revealing that he works with his dad tiling and that he was planning on taking a gap year after university. The whole situation flustered Rochelle, but she let both guys know she was an "independent woman" when her brother asked Owen if he was paying for their date.
Shaquille was pleased by Owen's answer and deemed the boy as a good date, as he sent the pair on their way, not before complimenting Owen on his jacket and saying in the background "ah, they grow up so fast."
ALL IN GOOD FUN
Shaquille shared the video on his twitter account, where it has earned 1.46 million of views and thousands of likes and retweets. People from all over the world found the content to be hilarious and praised Shaquille for giving the situation a fun turn instead of acting scary on purpose.
The 22-year-old told Metro UK that he doesn't usually do that with Rochelle's dates and that it was purely for comedic value. And continued "Always going to be protective of my little sister but she's a smart girl, so I let her do her thing without getting involved too much. But yeah this video was purely for comedic value."
People on the internet wanted to get some updates about how the date went and if Owen paid for the bill or not. So, the next day, Shaquille shared another clip, this time from Owen's car.
THE SECOND DATE
He explained that after a leg day on the gym, he was struggling to get up the hill to his house when Owen and his sister picked him up on their way there. Rochelle said she had a great time on their date, as Owen revealed they went to an Italian restaurant.
However, when Shaquille asked if they had kissed goodnight, Rochelle embarrassingly said "no comment!"
A second date was on the cards, and just a few days later, Shaquille shared another clip of Owen sitting on the family's living room and eating some pie, which was a good sign that things were moving forward with him and Rochelle.
Is not clear if the pair is still dating, but Shaquille did his part.
Please fill in your e-mail so we can share with you our top stories!