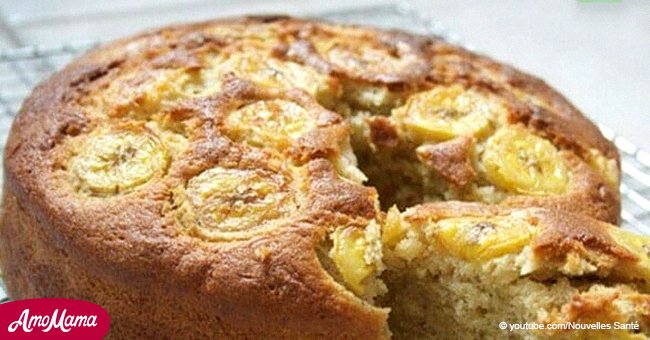 Simple banana cake recipe without flour, sugar or milk, but with an outstanding taste
A delicious treat for the gluten and lactose intolerant -. and everyone else who loves bananas.
For those who have to watch their diet - whether gluten and lactose intolerant or just watching those calories - this delicious banana cake will become a favorite treat.
A HEALTHY CAKE THAT'S DELICIOUS TOO
This banana cake recipe is very unusual in that it contains no white flour, no milk, and no sugar, but is still a temptation to those of us with a sweet tooth.
Blender Banana Cake Recipe
Ingredients
4 ripe bananas
½ cup of oil or olive oil
4 eggs
2 cups of oatmeal
1 cup of raisins
2 tablespoons of baking powder
Cinnamon to taste
Preparation
Beat the bananas, eggs, and oil in a blender until it turns into a smooth, homogeneous mixture. Add the raisins and beat, before you add the oats, cinnamon, and baking powder.
Place the dough in a greased form dusted with oatmeal and bake at 350ºF for 35 minutes.
Serve hot or cold for a delicious and healthy afternoon snack.
Read more on Twitter Amomama USA.
A VINTAGE RECIPE FOR BANANA CAKE TO MAKE FROM SCRATCH
Of course, those who won't do without the real thing can sit down to a slice of good Old Fashioned Banana Cake recipe.
This is a vintage family recipe made from scratch, and goes back to the 1930s.
The recipe consists of a large layer cake, split it in half, fill with mashed bananas and lots of sugar, the old-fashioned way.
Old Fashioned Banana Cake Recipe
2 1/4 cups sifted all-purpose flour
2 1/2 teaspoon baking powder
1/2 teaspoon salt
1/4 teaspoon baking soda
1/2 cup butter (1 stick)
1 cup white granulated sugar
1 1/2 teaspoon vanilla extract
3 large eggs
1 cup mashed bananas (about 2 large bananas)
1/2 cup whole buttermilk
1/2 cup broken pecan pieces
Sift together flour, baking powder, salt, and baking soda into a small bowl and set aside.
Cream butter on medium speed, slowly adding the sugar. Cream until fluffy and very light. Add the vanilla extract and the eggs, one at a time, beating on high speed after each egg until light and mixed well.
Mash bananas in a small bowl and stir in the buttermilk. Fold in flour and banana mixture, starting and ending with flour. Beat on medium speed about 30 seconds. Add the pecan pieces and pour into three 8" cake pans - lined with parchment paper, greased and dusted with flour.
Bake in a preheated oven 350F. for about 23-28 minutes until cake test done in center. Remove from oven and let cool in pans for 5 minutes, then turn out onto a cooling rack.
Whipped Cream Frosting
1 pint cold heavy whipped cream
1 teaspoon vanilla extract
1/2 cup sifted powdered sugar
Additional bananas (about 4 large), sliced to place between layers
Whip the cream on high speed until soft peaks form, then stir in vanilla. Add the sugar, a little at a time until all is creamed together to spreading consistency.
Place one layer of cake with the top side down on a cake plate or server and place the sliced bananas on top. Cover with the frosting. Place the next layer on top.
Repeat with the second and third layer of cake finishing with the Whipped Topping, and make sure the bananas are covered with the Topping around the sides of cake.
In a related story, discover the incredible health benefits of consuming bananas every day.
Please fill in your e-mail so we can share with you our top stories!