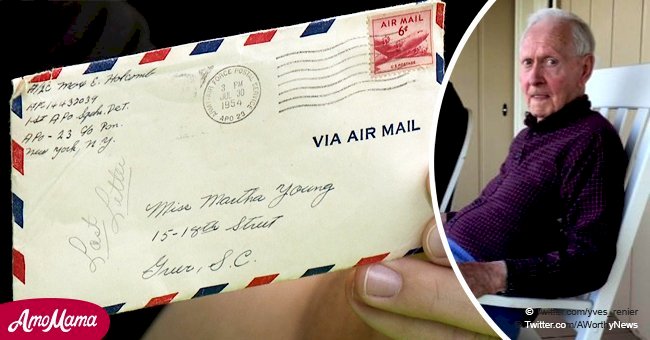 Walmart employees found a 4-page love letter on the floor written by a veteran in 1954

A Dalton Walmart employee found a love letter on the floor of his workplace. He made it his mission to find the couple behind it.
Three weeks ago, Dakota Lovain picked up four pages of what made up a very old love letter. According to wdef, it was postmarked July 30, 1954.
Lovain was employed at the Walmart Neighborhood Market. However, he was also part of the National Guard.
Follow us on Twitter for more @amomama.
The letter was written by Max to his beloved, Martha. In it, Max expressed his longing to see his "honey" again. He also requested her hand in marriage if that was ok with her parents.
Lovain took up the search but was cut short by his deployment. His co-worker Jennifer Hendrix picked up where he left off.
She did a story with the local Chattanooga television network and received a tip. Fox News reported that Hendrix was directed to a Jason Holcomb, the grandson of Max Holcomb.
He described what happened:
"I sent him a message through Facebook that he didn't receive. The message I got back from him immediately was - can you call me? And he left his phone number, and I was very nervous, shaken."
Hendrix learned that Max was serving in the Air Force at the time he wrote the letter. Meanwhile, Jason was also in awe at the situation. He said:
"It just blew my mind, my hair stood up on my neck, and I thought surely not."
In a bittersweet twist, Hendrix found out that the couple had passed. But, as requested in the letter, they had spent their lives together in marriage.
The letter reflected their enduring love even before they got to be together.
Jason explained:
"They were defiantly selfless people, they were, they always thought about each other before they did anything."
Martha passed in 2014 while Max died in 2017. They had been together for 60 years.
It's still a mystery how the letter ended up on aisle 6 of the Walmart floor, but it's a beautiful reminder for Jason of his "inseparable" loving grandparents.
Another mysterious letter was investigated last week by fans of model Kendall Jenner. The reality TV star initially shared a photo of a love letter to her Instagram story, but she blurred out the name.
Fans were eager to start researching the handwriting style and figure out who wrote the strong words. People started suggesting that Harry Styles, an old fling of Jenner, was behind it.
But soon enough, the 23-year-old revealed the truth. It was sent by two fashion photographers named Mert Alas and Marcus Piggott.
Jenner teased:
"Nice try. My secret admirer's actually @mertalas & macpiggott."
Back in early December, another celebrity shared a letter with her fans. Mariah Carey posted a picture of her children's letters to Santa.
The two kids apparently had a long list of requests for the big guy. Their smiles as they worked on their lists were a sign of the joyous season that is soon to come.
Please fill in your e-mail so we can share with you our top stories!