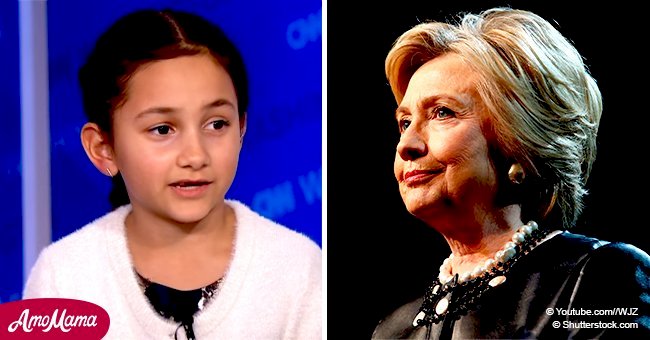 Hillary Clinton empowers a girl who ran for school president and lost to a boy by one vote

An 8-year-old girl received a motivational letter from the former Democratic presidential nominee, Hilary Clinton, after the girl lost her race for class president by a single vote.
The letter, confirmed by a Clinton spokesman as authentic, urged little Martha Kennedy Morales never to give up, as Hillary wrote:
"As I know too well, it's not easy when you stand up and put yourself in contention for a role that's only been sought by boys."
Martha's father posted updates on Facebook during her campaign and landed under the curious eyes of someone close to Hillary Clinton.
Find out more on our Twitter account @amomama_usa.
In the end, Martha lost the race due to six incorrectly filled out ballots, a second election got held, and Martha was short one vote. She lost to a favorite fourth-grade boy in her mixed grade class at the Quaker private school in Maryland.
Being able to strongly relate to Martha, Hillary wrote:
"While I know you may have been disappointed that you did not win President, I am so proud of you for deciding to run in the first place. The most important thing is that you fought for what you believed in, and that is always worth it."
Hillary gave little Martha solid advise as she continued:
"As you continue to learn and grow in the years ahead, never stop standing up for what is right and seeking opportunities to be a leader, and know that I am cheering you on for a future of great success."
When the letter arrived, and they saw whom it was from, Martha said she was "very surprised" as this little Hillary Clinton fan never expected to receive a letter from the former Democratic presidential candidate, but happy none the less.
Other women in power are also helping out our young and aspiring female leaders of tomorrow. The 'Black-ish' star Yara Shahidi spoke of Michelle Obama's encouragement and help during an interview. Yara had applied to 4 colleges including Harvard and plan on a double-major in sociology and African-American studies.
Having appeared onstage with Michelle before, and an active public speaker in the promotion of women's empowerment herself, Yara was humbled when Michelle gave a helping hand in the form of a letter of recommendation for college.
Grateful for the support from the former first lady, Yara said:
"She is very amazing and such a supporter, which is something very surreal to say."
We never know who we might inspire through our actions. Just as Meghan Markle's idol never expected to hear that she inspired her to become who she is.
The beautiful, talented bubbly Julia Roberts has inspired countless women to be their best but didn't expect it from another celebrity.
Please fill in your e-mail so we can share with you our top stories!