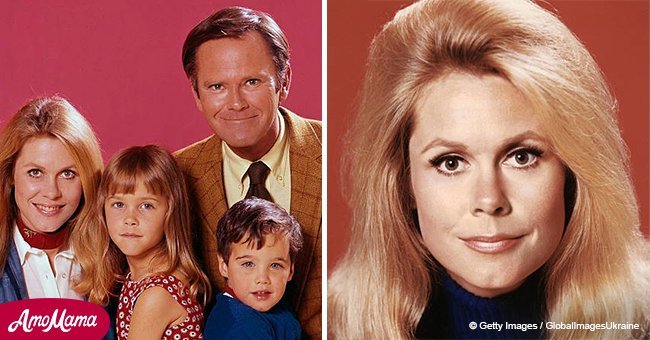 Elizabeth Montgomery's Life Was Filled with Sadness and Despair
The veteran actress and political activist Elizabeth Montgomery won the hearts of fans all over the world with her character, Samantha Stephens, in the original "Bewitched."
Author Herbie Pilato published a book in 2012, titled "Twitch Upon A Star: The Bewitched Life and Career of Elizabeth Montgomery," which features exclusive interviews with the famed actress.
Montgomery might have bewitched fans with her portrayal of the lovable witch Samantha Stevens in the 1960s and 1970s, but her off-screen life was far from enchanted.
Read more on our Twitter account, @amomama_usa.
Apart from being an accomplished actress, Montgomery was also involved with several charitable causes, including education, AIDS activism, and women's and gay rights.
Montgomery was a Grand Marshall at the LA Gay Pride Parade and volunteered at Learning Ally. The nonprofit organization recorded educational books for disabled people.
Despite her success on and off-screen, Montgomery led a troubled life. Her strained relationship with her father was the root of all her troubles.
Montgomery was married four times and was involved with many of Hollywood's most famous leading men. She was linked to Elvis Presley and Dean Martin, to name but two.
Montgomery and Frederick Gallatin Cammann tied the knot in 1954, but their union lasted just one year. Her second marriage to actor Gig Young lasted seven years.
In 1963, she married "Bewitched" producer, William Asher. Her affair with producer Richard Michaels in 1973 tore both their families apart, and led ultimately to the cancellation of "Bewitched."
Montgomery split up from Michaels in 1975. She later lived with actor Robert Foxworth for nearly two decades, and married him just 18 months before she passed away from colon cancer in 1995 at the age of 62.
It is believed that Montgomery sought out calamitous relationships because she had a "father complex." She tried to please him but also rebelled against the man who had physically and mentally abused her during her youth.
In his book, Pilato stated that Montgomery was resentful when she became a more prominent Hollywood sensation than her father ever was. Once Montgomery became an actress, her father was always her harshest critic.
Montgomery had always been in relationships with older men, due to her unresolved issues with her father. It was only when she met Foxworth, nine years her junior, that she finally found some form of personal happiness.
Please fill in your e-mail so we can share with you our top stories!