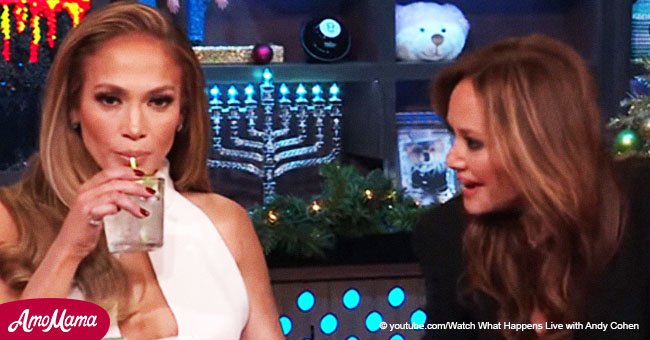 Jennifer Lopez reveals that she once had sex in her trailer on set
The star shocked the audience of a popular late night show with a steamy confession about her sex life as she played "Never Have I Ever" with her best friend, fellow actress Leah Remini.
49-year-old singer and actress Jennifer Lopez visited "What Happens Live" with Andy Cohen recently to promote her newest film "Second Act" and took part in a tell-all drinking game alongside her friend a co-star.
When the turn to speak came to the TV host, Cohen said, "Never have I ever hooked up in my trailer," making Remini rapidly reply that she had not done that. Lopez, on the other hand, quietly took a sip of her drink.
Trying to justify herself, Lopez said that it happened during the shooting of one of her films, a time when she basically lived in the film set, which made having sex at work hours normal. Read more on our Twitter account @amomama_usa
"I have done 40-something movies. I mean, I live in the trailer," Lopez couldn't help but exclaiming as Cohen struggled to read the next "Never have I ever" line from one of his cards.
As Lopez drank for the third time, she interrupted Cohen by thanking that her drink didn't have any alcohol on it, because she had confessed to having done too much already.
By the time Lopez drank a fourth time, it was Cohen who interrupted the game to point out that Remini had not done anything on the list, to what she jokingly replied: "I'm a little bit behind."
Among Lopez other "confessions" were having caught actors with their lines written in their hands, having lied to a friend by saying that his or her movie was great when it wasn't and having seen a director storm out the set in anger.
Lopez and Remini costar as on-screen best friends in "Second Act," which will be out in theaters on December 21. The movie was also produced by Lopez, who had the idea of bringing some of her friendship with Remini to the set to add realism.
On December 12, Lopez hit the red carpet in New York City on the occasion of the private premiere of the film, her giant Giambattista Valli hot-pink gown stole the show.
Lopez flaunted her toned legs in the short hot-pink dress that featured a long tulle train that made her struggle to get inside her truck limousine and to enter the venue, making her fans go crazy.