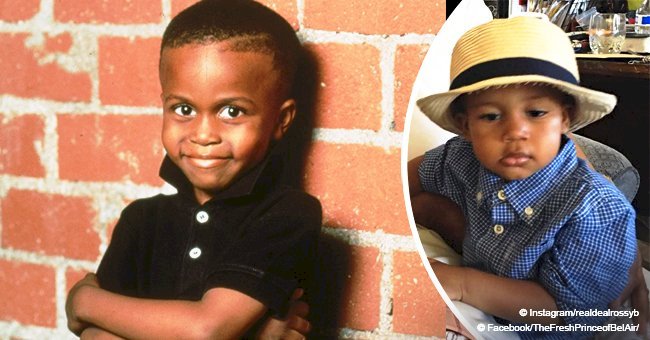 Remember little Nicky from 'Fresh Prince'? Meet his son who looks like his younger self's twin

A lot has changed for Lil Nicky from "Fresh Prince Of Bel-Air." Apart from choosing a new career path, the former child actor also has a little one of his own.
"Fresh Prince Of Bel-Air" had folks cracking up with laughter from 1990 to 1996, and one of those responsible for that was Ross Elliot Bagley, known to most people as Lil Nicky.
His character was Will Smith's cousin and the youngest child of Uncle Phil and Aunt Viv. On a show that aired for six seasons, Lil Nicky was introduced in Season five but managed to leave an impression on viewers with his bubbly and hilarious character.
But that little boy is not so little anymore, and now has a son of his own. Bagley shared a photo of Reece in 2016: a black-and-white snap of the father and son sitting on a flight of stairs.
Little Reece looked adorable in a checked shirt and boater hat, and his smile melted hearts across the internet. Fast forward to September 13, 2018, and Reece still has his lovely cap. Bagley's Instagram is filled with pictures of he and Reece, and it's clear the two share a close bond.
Reece is the spitting image of his father, but we don't know if he'll choose to follow Bagley's acting footsteps. Bagley himself has since left the Hollywood scene.
According to LiveRampUp, the actor ditched the lights and cameras of Hollywood for the real estate world. Since 2013, he has been a licensed real estate agent operating in Los Angeles. Bagley reportedly works for Keller-Williams Realty, Inc. and has a net worth of $500,000.
Before making his way to the world of real estate, Bagley had quite a run on the acting circuit. Apart from "Fresh Prince Of Bel-Air," Bagley also starred as the beloved and sassy Buckwheat in 1994's "The Little Rascals." Fans of the hit movie will remember Buckwheat's catchy tune:
"I got a dollar, I got a dollar, hey, hey, hey, hey."
Now 30, Bagley revealed that he still gets teased for his movie roles, especially Buckwheat. "I take it in stride because most of the people who might have something to say are actually fans of my work, so it's actually a compliment," he added.
Despite being away from acting, Bagley continued to stay in touch with his former colleagues and was at a recent "Little Rascals" cast reunion.
He also considers it a blessing to have been on "The Fresh Prince of Bel-Air," one of his favorite TV shows while growing up.
"I remember when it used to come on Monday nights and I would watch it with my babysitter when I was a little tyke so, to be on it was surreal, to say the least."
Please fill in your e-mail so we can share with you our top stories!