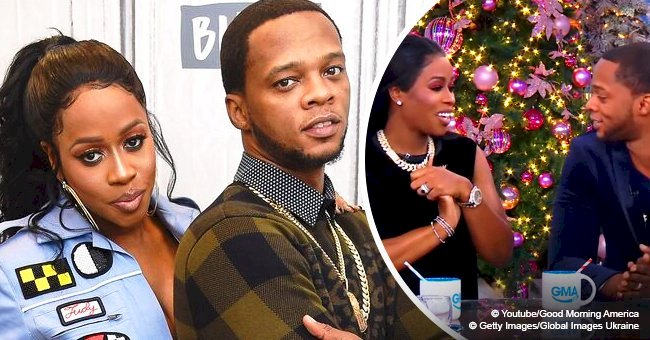 Papoose buys wife Remy Ma her desired push present and she can't contain her excitement
Less than one week after the birth of their first child together, Papoose has presented his wife with a push present she didn't see coming.
The rapper took to Instagram some hours ago with a video montage to announce his gift presentation to Remy Ma. The first clip is from their "Good Morning America" appearance where host Michael Strahan asked Papoose -- real name, Shamele Mackie -- about the "push present."
After the rapper said "It's all gonna go to the golden child," Remy Ma, also a rapper, gave him an incredulous look. "What? I just told you last night I wanted a new truck," joked the "All the Way Up" rapper as they all burst out laughing.
SURPRISE!
Remy and Strahan had no idea at the time, but Papoose took a hint from that incident. In the second clip of his video, Remy is seen outside and Papoose, who appears to be leading her from behind the camera, yells happily "Push gift!"
Remy, whose real name is Reminisce Mackie, couldn't contain her excitement as she walked toward the huge, black truck with an equally large bow on the top.
Papoose revealed in the caption that the giant vehicle is a 2019 Cadillac Escalade Platinum and Celebrity Insider placed its value at $100,000.
The "Melanin Magic" hitmaker wasted no time checking out her new gift and emphasized her "new mom" status when she asked her husband: "Where's the cooler for the baby's milk?"
Papoose, 40, thanked Michael Strahan in his caption and noted that his "queen" definitely deserves the gift. "She's been breastfeeding our baby, around the clock," he added.
REMY SPEAKS OUT
Remy, 38, who is recovering after a tough labor/delivery on Friday, also took to Instagram to gush over her man and the unexpected present. She also teased new details about their four-day-old golden child.
"Thank you for my "Push Present" Husband @papoosepapoose. I've been so happy with the baby that I forgot all about such materialistic things," she began, adding:
"We been married for 10 years but today is the day we FINALLY had our wedding. Such a special day that we have to acknowledge it. (3 years ago)- we call it our "TV Wedding Anniversary" BUT Now it's an even MORE special day.

It was originally my Due Date, however, after getting induced on Friday & having to stay in the hospital an extra day due to complications, today we got to FINALLY bring home "The Golden Child" (the name is sticking- they calling her "GC;" will reveal her REAL beautiful name with maternity pics soon though) I'm truly blessed.

Sidebar: I'm really hyped about the cooler to store the baby's milk though. This breastfeeding thing is SERIOUS."
HAPPY ENDING
After many years of battling infertility and a miscarriage in 2017, Remy and Papoose finally welcomed their first child together on December 15.
Before the baby girl's arrival, Papoose sent out a call for prayers on social media, stating that his wife is a "warrior" and "fighting through it."
Although the new baby is their first child together, Remy already has an 18-year-old son -- Jayson -- from a previous relationship, and Papoose reportedly has three kids as well.
Congrats again to the Mackies!
Please fill in your e-mail so we can share with you our top stories!