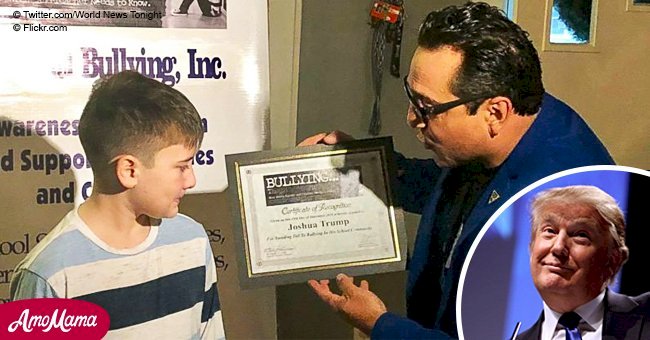 Boy who had to change his name because of President Trump gets a Medal of Courage

A Delaware boy who was bullied for his last name has received a Medal of Courage. He also got a special honor from his idol.
6 ABC News reported about Joshua Trump, a sixth grader at Talley Middle School. He's only 11, yet he's had to put up with a lot in the past couple of years.
Since President Donald Trump was elected, the young boy has been bullied at school. But in a ceremony on Saturday, Joshua was awarded the Teach Anti-Bullying Medal of Courage for his perseverance.
Follow us on Twitter for more @amomama.
The founder of the Pennsylvania-based national nonprofit organization, Claudio Cerullo, said the young boy was strong throughout his ordeal.
She told the media:
"He stood, he didn't fall. He didn't hurt himself, hurt others. He didn't retaliate. That's what makes him a hero. He's very deserving of the honor."
And in a more personalized reward, young Joshua will also be given a signature from professional wrestler Sheamus whom he loves.
The honor makes Joshua the 48th recipient of the award since it started in 2011. It may comfort his parents who were also challenged by their son's bullying.
Things were so bad that father Bobby Berto had to pull "[Joshua] out of school and homeschooled him for a year." Berto and Megan Trump, Joshua's mom, spoke to school officials.
In an interview last week, Megan explained the intensity of the bullying:
"They curse at him, they call him an idiot, they call him stupid."
Principal Mark Mayer mentioned that some teachers would be sure to avoid saying Joshua's last name during lessons.
He said:
"I do know the teachers were aware of the last name, and I know in speaking with the student that the teachers do their very best to try not to say his last name."
Following the complaint, the Brandywine School District and the middle school allowed Joshua to use his father's surname instead of his mother's.
Furthermore, the school identified and disciplined five students among the 800-student school. Mayer said, "they were apologetic and they did say that they were sorry."
Yet Megan remained concerned when it came to Joshua's mental well-being.
She explained:
"He said he hates himself, and he hates his last name, and he feels sad all the time, and he doesn't want to live feeling like that anymore. And as a parent, that's scary."
School officials have also offered Joshua additional support. That way he can more easily convey any bullying incidents moving forward.
Another instance of bullying happened back in October 2018. Nevaeh Robinson endured laughter from her classmates when her hair was lit on fire.
The 13-year-old eighth-grader resides in Philadelphia. It was at Gompers School that a classmate set her hair on fire at the school's bus stop.
Robinson described the incident:
"When it happened, I panicked real fast, because I thought I was going to die because it burned my hair so fast."
While Robinson was worried for her life, students nearby laughed at her horrific ordeal. She was left with first-degree burns and a bald spot.
The Philadelphia School District spoke against the matter. And one day, the Philadelphia police walked alongside Robinson as she headed to school.
Robinson was appreciative of the support after the attack. However, a nine-year-old girl was not as fortunate.
Madison "Maddie" Whitsett hung herself last month after going through bullying at school. The young girl was also taking ADHD medication.
Whitsett's parents were devastated, saying that they did not see it coming as she was usually full of life. They later learned that Whitsett had been harassed at school.
The parents are encouraging anyone who witnesses bullying to step in. They also warn parents to take note of warning signs when it comes to such medications.
Our heart goes out to young kids and parents who are on the receiving end of bullying. We also urge those aware of the perpetrators to speak up so that the worst can be avoided.
Please fill in your e-mail so we can share with you our top stories!