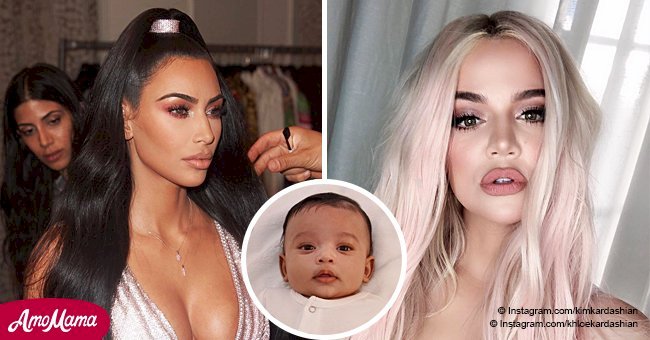 Khloé Kardashian slams Kim's detractor on Instagram for a comment about Chicago

Kardashian West posted a photo of herself as a throwback for Instagram. But when an uninformed responded, Khloé was compelled to clarify.
Kim, the wife of rapper Kanyé West, shared an adorable photo of herself as a child. Her fans were in love with the photo which she captioned "Baby K."
Kim's sister Kylie Jenner remarked on how much Kim looked like her daughter Chicago. Kim and Kanyé welcomed their daughter via a surrogate nearly a year ago.
Follow us on Twitter for more @amomama.
Kylie commented:
"Omg Chicago."
But one seemingly clueless fan opposed the idea that Kim, 38, and her daughter looked alike. She claimed that Chicago "would either look MORE like Kanye or the surrogate mother."
Kim's other sister Khloé Kardashian hit back at the user. She clarified surrogacy and suggested they better inform themselves before speaking.
She wrote:
"If you don't really know about someone's situation then maybe you shouldn't comment. Try informing yourself first before you make such silly statements doll."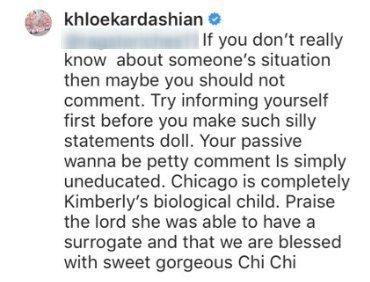 Source: Instagram/ Kim Kardashian
She continued:
"Your passive wanna be petty comment is simply uneducated. Chicago is completely Kimberly's biological child. Praise the lord she was able to have a surrogate and that we are blessed with sweet gorgeous Chi Chi."
The social media user responded in defense:
"I never said the baby wasn't beautiful [face with tears of joy emoji] SHE DEFINITELY IS, but she did have a surrogate so the baby would either look MORE like Kanye or the surrogate mother. That's all love."
But Khloé, 34, made sure the incorrect claim was fixed. She replied:
"I am not saying you said that love. I am saying you must be more informed before speaking on something that you don't know anything about apparently. Chicago is Kimberly's DNA. Her and her husband made embryos and then they were blessed enough to have a surrogate carry their child for them since Kimberly is unable to. God bless modern medicine."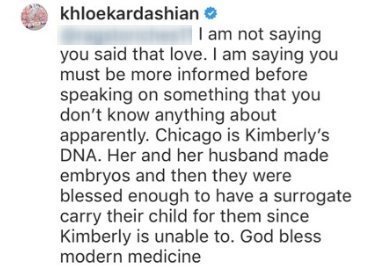 Source: Instagram/ Kim Kardashian
The user finally seemed to understand. She apologized for her uninformed comments. She added: "Either way she's beautiful."
Khloé, like her sisters, is unafraid to show off her personality. Whether it's in defense clapback mode or for fashion, the reality TV star holds nothing back.
Yesterday, she revealed brand new pink-dyed ends on her Instagram account. The light pink look was gorgeous.
She captioned it:
"You'll never get the same moment twice. Appreciate this moment."
Within 24 hours, Kylie Jenner also entered the spotlight with a stronger platinum blonde look. Her caption read, "no days off." She was on set when she took the stunning selfie shot.
The businesswoman is not always working, however. On Saturday night, she attended the Astroworld Fest concert to support boyfriend and rapper Travis Scott.
She held her daughter Stormi as Scott received the honor and performed for the crowd.
When Scott referred to Kylie as his "beautiful wife," fans were quick to run with the idea that marriage was in the works for the couple.
Please fill in your e-mail so we can share with you our top stories!