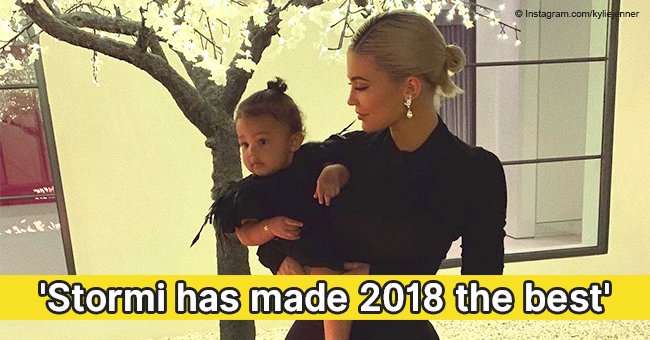 Kylie Jenner rocks long black skintight dress while carrying daughter Stormi in heartwarming photo

Kylie Jenner delivers an end-of-year message to her fans in a sweet post featuring herself and her daughter in twinning looks.
2018 marked the year Kylie Jenner became a mother and she paid tribute to this in her latest post. Sharing a photo of a twinning moment with her daughter Stormi, the reality star wrote a message of thanks to her followers for their support.
TURNING INTO A MOTHER
Kylie's life has never been the same since the birth of her daughter Stormi who became the center of her attention. Along with her 10-month-old's father, Travis Scott, she's been making sure her family remains her top priority.
GIVING THANKS
As the year comes to a close, the makeup mogul is counting her blessings, and in doing so, she posted a sweet photo of her and Stormi. The snap taken in her home shows the mother and daughter matching in black outfits and revealing their uncanny resemblance. Kylie wore a skintight dress while Stormi's frock had feathery sleeves. The grateful mom used the moment to express her love and thanks to her fans for a wonderful year.
"Just thinking about how much I love each and every one of you, thank you all for the love and support this year."
She went on to say that "2018 has been unforgettable," thanks to her supporters, and added that Stormi "made it the best."
"I can't wait for 2019," she concluded.
WINNING HER FANS OVER AFTER SECRET PREGNANCY
Kylie's appreciation for her fans may also stem from the patience they've shown even after the young mother kept her pregnancy a secret until the time she gave birth. Many could have easily despised her for keeping them out of the loop but it appears Kylie won the love of fans when Stormi was born. She made up for all the secrecy by sharing a video documenting the nine months she kept private and let her fans in on how she dealt with her pregnancy. She explained that she wanted to keep her unborn child away from all the publicity to make sure she gave her the best pregnancy care. The video has recently been hailed as the top-trending YouTube video of 2018.
NO MORE SECRETS
Since then, Kylie has been generous in sharing her life as a mother to the world. She's been delighting her fans with adorable photos of her bonding moments with her family. In one of her more recent posts, she reveals the family is traveling as she shares a photo of her and Stormi on the tarmac. She also featured a photo of Stormi inside from inside the plane.
MORE TO COME
It's possible Kylie will be busy traveling during the holidays which is why she already delivered her end-of-year message of thanks to her fans. But we're certain this isn't the last we'll be seeing of the mother and daughter on Instagram this year. Knowing Kylie, she'll be sharing glimpses of their first Christmas and New Year as a family, a milestone that deserves an Instagram moment.
Please fill in your e-mail so we can share with you our top stories!