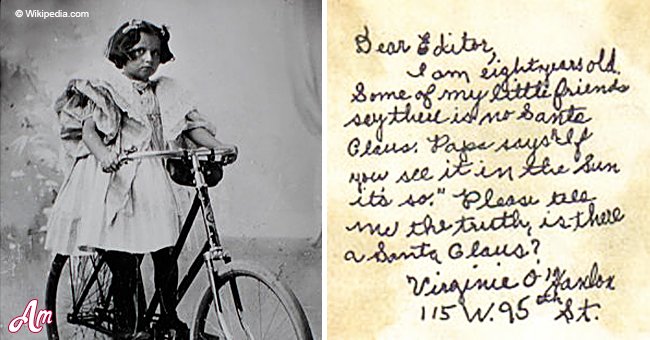 Please tell me the truth': the story behind the most famous 'Santa' letter
In 1897, an eight-year-old girl wrote the New York Sun to ask if Santa Claus was real - a letter that continues to fascinate the world to this day.
The editor's response to Virginia O'Hanlon's letter became the most reprinted newspaper editorial in history.
O'Hanlon's letter reads:
"DEAR EDITOR: I am 8 years old. Some of my little friends say there is no Santa Claus.
Papa says, 'If you see it in THE SUN it's so.' Please tell me the truth; is there a Santa Claus?"
Follow us on our Twitter account, @amomama_usa, to learn more.
New York Sun editor Francis P. Church's famous response goes: "Yes, Virginia, there is a Santa Claus. He exists as certainly as love and generosity and devotion exist. ... The most real things in the world are those that neither children nor men can see."
A GREAT INSPIRATION
The "Yes, Virginia" column has inspired books, music, and even an animated Macy's TV special. One hundred and twenty years have passed since the column appeared in the newspaper, but it still strikes a chord among many people.
O'Hanlon's handwritten note is still being kept by her family. She led a life of achievement before her death in 1971 at the age of 81.
Brock Rogers, her great-grandson, keeps the famous letter in a scrapbook.
"As a parent of two young kids, I want them to maintain their innocence for as long as possible, and the 'Yes, Virginia' story, the letter, the response that she got, is a way to do that for them," he said.
A SUCCESSFUL EDUCATOR
James Temple, another grandson of O'Hanlon's, said: "Her letter, as I think about it, brings back my childhood."
O'Hanlon went on to become a successful educator. She earned a masters degree and doctorate in education. She worked as a New York City school teacher and principal, for decades.
"To be a single parent and end up with a Ph.D., very remarkable," said Temple.
In a similarly heartwarming story, an autistic and blind 6-year-old boy received a surprise from Santa before Christmas.
Matthew Foster of Fort Worth, Texas dreamed of meeting Santa Claus. His dream came true when he met a real-life Santa, a magical experience for him.
Knowing the boy was blind, Santa allowed him to feel the softness of his Santa suit and hat. He also let the him feel the coarseness of his beard.
Please fill in your e-mail so we can share with you our top stories!