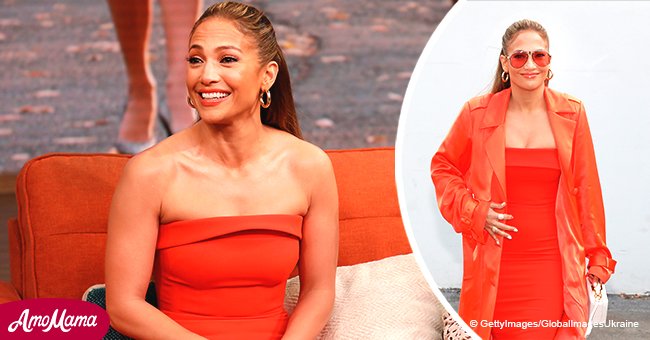 Jennifer Lopez dazzles in a neon coral outfit, diverting attention from her $4,995 purse
The 49-year-old singer and actress Jennifer Lopez sported head-to-toe neon orange, but her $4,995 tiny purse stole the show during an event.
Jennifer Lopez, who is currently dating baseball star, Alex Rodriguez, appeared on Univision's "Despierta América" recently to promote her upcoming movie "Second Act," as reported by Insider.
The "Let's Get Loud" singer, also known by her nickname J.Lo, picked a neon orange ensemble for the event. She layered a salmon-colored trench coat over a strapless dress.
She accessorized herself with gold hoops, orange heels, orange-tinted sunglasses, and a tiny white purse by Mark Cross that retails for $4,995.
J.Lo's latest film will be out in theaters on December 21. Follow us on our Twitter account, @amomama_usa, to learn more.
Meanwhile, the mother-of-two has been assured of a special gift for Christmas.
In a recent interview with Access, her boyfriend, Rodriguez, revealed that he would give her a gift that she will treasure more than any expensive things.
"It has to be something creative. I can't just go out and buy something expensive," the 43-year-old professional baseball player said.
He added: "For Jennifer, something that is handwritten or maybe is a photo — I don't want to give any secrets away for this holiday. It's something that is heartfelt.
"It is something that resembles a memory that we've had together that involves our children or involves our home. Ultimately, that's what it is all about."
Rodriquez, who started dating J.Lo in February 2017, reflected on his blessings.
"The older I get, the more grateful get. It think holiday season is really about giving back. One of the things that we mandate for our kids, all four of them, is to go into the Boys and Girls Club, go into the inner city — whether it's Thanksgiving or Christmas — and they have to give back," he said.
"One Christmas we made it where they only got one gift and all the gifts that were supposed to go to them, they donated to people who couldn't really afford it. I think it's really important for our children… to bring them some awareness about how important it is to give," he continued.
Rodriguez has partnered with Old Navy and Boys & Girls Clubs for a fundraising campaign this holiday season.
For every $1 Cozy Sock purchased from Old Navy on Black Friday, the clothing company will donate up to $1 million to the Boys & Girls Clubs.
Rodriguez, whose mother worked several jobs to support their family, spent much of his childhood at the Boys & Girls Club.
Please fill in your e-mail so we can share with you our top stories!