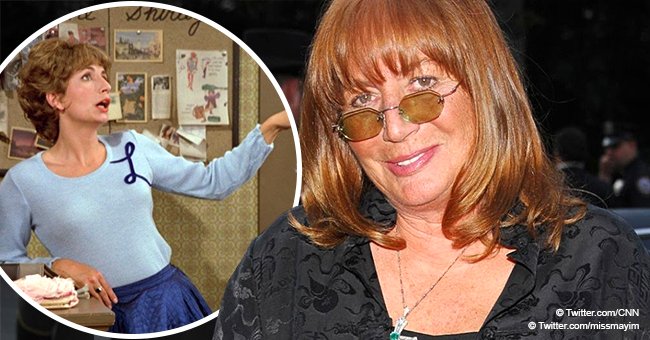 Beloved 'Laverne and Shirley's Penny Marshall passes away at 75 due to complications from diabetes

Directorial great and comedic actress Penny Marshall has died. A-list celebrities are in mourning as they pay tribute to the legendary star.
Fans of "Laverne and Shirley" and many of Penny Marshall's directorial films will be sad to learn that the actress/director has died.
News of Marshall's demise was relayed by her representative to Entertainment Tonight revealing she died in her home on Monday night. Marshall reportedly succumbed to complications from diabetes at the age of 75.
"Penny was a girl from the Bronx, who came out West, put a cursive 'L' on her sweater and transformed herself into a Hollywood success story.
HER FAMILY'S STATEMENT
In a statement from her family who is currently "heartbroken," Marshall was described as "a tomboy who loved sports, doing puzzles of any kind, drinking milk and Pepsi together and being with her family."
She was also hailed for her breakthrough role as Laverne in the hit comedy sitcom "Laverne and Shirley." The statement described her in the TV show as "a comedic natural with a photographic memory and an instinct for slapstick."
Marshall went into directing through the influence of her late brother, director Garry Marshall and achieved acclaim for her work in Tom Hanks classics such as "Big" and "A League of Her Own." According to the statement, "Big" made her "the first woman in history to helm a film that grossed more than $100 million." She likewise gained the same accolade with "A League of Her Own."
The statement went on to enumerate the big name stars Marshall directed including Geena Davis, Robert De Niro, Whoopi Goldberg, Robin Williams, Madonna, Denzel Washington, Rosie O'Donnell, and Whitney Houston.
"She even gave Mark Wahlberg his first acting job," the statement adds and concludes by saying,
"Penny was a girl from the Bronx, who came out West, put a cursive 'L' on her sweater and transformed herself into a Hollywood success story. We hope her life continues to inspire others to spend time with family, work hard and make all of their dreams come true."
A MESSAGE FROM HER ONLY CHILD AND DAUGHTER
Marshall is survived by her daughter, Tracy Reiner from her marriage to her first husband, Michael Henry.
Tracy also shared a sweet message reminiscing some of her fondest memories of her mother.
"I hope my mom inspired everyone to be everything they could dream of being. Penny never lost her childhood playfulness and wished that for the rest of us. In our family Penny wanted the grandkids to call her G-Ma P because she was definitely a real 'OG' from the Bronx.' It made the grandkids laugh and roll their eyes. There are so many memories that could be shared as great ones but the times just spent at home being a family detached from the phenomenon of fame and laughing at the silly things that life can bring are what we love best."
STARS PAY TRIBUTE
A-list stars descended to pay tribute to the legendary actress and director upon news of her death. Among them, her ex-husband Rob Reiner lauded her for being "born with a great gift" – "a funnybone and the instinct of how to use it." He also expressed how lucky he was "to have lived with her and her funnybone."
Rosie O'Donnell tweeted a commercial she did with Marshall and said, "I am absolutely heartbroken."
Geena Davis who starred in "A League of Their Own" expressed gratefulness to Marshall for her role in the film.
"Penny brought so much joy to so many and will be sorely missed," she also wrote.
Marshall favorite Tom Hanks paid tribute to the fun times he shared with his director.
"Man, did we laugh a lot! Wish we still could."
Meanwhile, Mark Wahlberg recognized Marshall's role in his career.
"Without her support and encouragement, I would not be where I am today."
The cast of "Happy Days," the show where Marshall first started before it spun off to "Laverne and Shirley" also mourned the loss of the actress by reflecting on her legacy.
Other comedy greats like Billy Crystal, Reese Witherspoon, Bette Midler, Danny De Vito, and Jason Alexander also paid tribute to Marshall who touched their lives in one way or another.
Marshall's life will be honored in a special tribute, the date of which has yet to be confirmed.
Please fill in your e-mail so we can share with you our top stories!