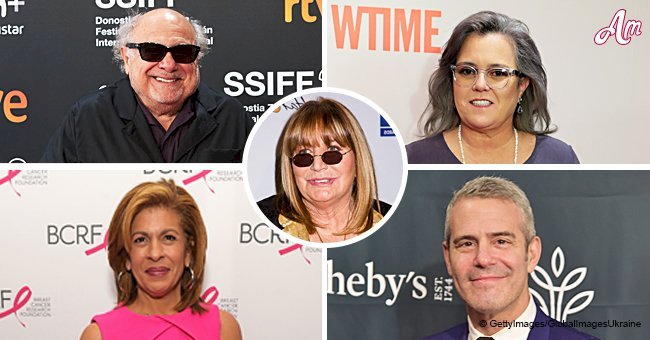 Stars including Rosie O'Donnell and Danny DeVito react to the death of Penny Marshall
It's with great sadness that the world learned of the passing of 75-year-old Penny Marshall, and many took to social media to share their condolences and pay tribute.
On Monday evening, December 17, Penny Marshall "peacefully" passed away, due to complications from diabetes. A spokesperson for Penny and her family said in a statement:
"Our family is heartbroken over the passing of Penny Marshall."
On Tuesday, after the news of her death broke, fans and friends took to Twitter as they mourned the passing of a much loved and talented woman that paved the way for many other women in the Film Industry.
Olivia Munn paid tribute to Penny's contributions and tweeted:
"Penny Marshall was one of the most important trailblazers. Her comedic talents brought success & fame, but she truly broke the mold w her directing- Big, Awakenings, A League of Their Own- becoming the first woman to direct a movie that grossed $100+ mil. Rest in love, PM."
The Major League Baseball shared photos of Penny on Twitter with a heartfelt caption that read:
"We join the baseball community in mourning the passing of Penny Marshall, director of 'A League of Their Own.'"
It is with great sadness that everyone that knew Penny mourned her death. She made a difference in the lives of many, she inspired people and made them laugh. Tom Hanks appreciated her sense of humor as he wrote on Twitter:
"Goodbye, Penny. Man, did we laugh a lot! Wish we still could. Love you. Hanx."
Tom Hanks worked with Penny Marshall on her first major movie, 'Big,' which was a huge success after its release in 1988, and made her the first woman to direct a film that grossed over $100 million, and also earned Tom Hanks an Oscar nomination, as it grossed over $151 million worldwide.
Mark Wahlberg also took the time to express what Penny meant to him as he wrote along with a photo of her:
"Rest in peace, Penny. Such a wonderful, funny and talented lady. Without her support and encouragement, I would not be where I am today. She will be missed."
Devastated by the news of her friend's death, Rosie O'Donnell posted a 1996 Kmart TV Commercial she and Penny done together, with the caption, "simply heartbroken #ripPENNY."
Geena Davis, who worked with Penny on 'A League of Their Own' commented with sadness as she tweeted:
"I'm terribly sad to hear the news about Penny passing. My heart goes out to Tracy Reiner and her family. Penny brought so much joy to so many and will be sorely missed. I will be forever grateful to her for letting me be a part of A League of Their Own."
Teaming up with Tom Hanks again in the 1992 comedy 'A League of Their Own,' that starred Geena Davis, Madonna, and Rosie O'Donnell, it centered around a women's professional baseball league that started during World War II.
The comedy was a huge success and also crossed the $100 million mark, as it grossed $107.5 million domestically. Another one of the countless stars that paid tribute to this great woman, was Danny Devito as he posted on Twitter:
"Penny Marshall was a sweet woman. I was very fortunate to spend time with her — so many laughs. She had a heart of gold. Tough as nails. She could play round ball with the best of them. Always All love, D."
Penny's ex-husband posted a short message on Twitter after her passing where he said that he is "so sad about Penny," and followed it up with another tweet a few minutes later sharing his grief as he wrote:
"I loved Penny. I grew up with her. She was born with a great gift. She was born with a funnybone and the instinct of how to use it. I was very lucky to have lived with her and her funnybone. I will miss her."
The couple met in 1971 during Penny's appearance on 'The Odd Couple' and got married shortly after, and remained married until their divorce ten years later in 1981.
Please fill in your e-mail so we can share with you our top stories!