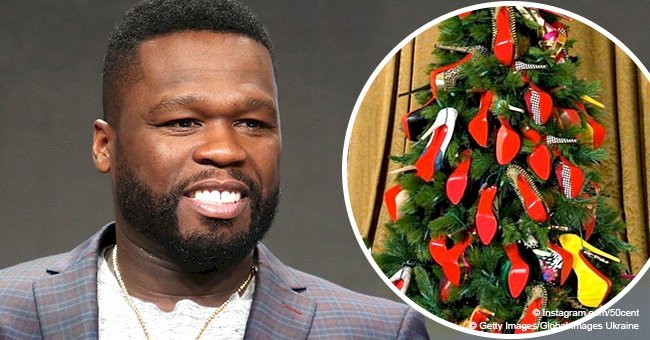 50 Cent heats up talk after sharing photo of Christmas tree decorated with his ex's old heels

Christmas is the season of good cheer, but 50 Cent didn't get the memo, because his trolling game is meaner than ever in a recent Instagram post. Fans couldn't help reacting to his insensitive joke.
The rapper took to Instagram on December 17 with a photo of his Christmas tree. Instead of the traditional ornaments and whatnot, however, 50 chose to decorate with over a dozen pairs of shoes.
He explained in the caption:
"I couldn't find the balls for my tree, so my Ex old [expletive] a work. Yeah she had to leave with what she came with. LOL."
The "Animal Ambition" didn't mention any names, but fans assumed he was referring to Shaniqua Tompkins, the mother of his now-estranged son.
50 is not on the best of terms with Shaniqua and their son, Marquise Jackson, and he continually denies the boy, but social media users could not believe 50 would choose to be petty around Christmas.
"Ur Lane 40 Cent!! Shut Da [expletive] Up...Be Positive 4 Once Ugly [expletive] Rich [expletive]" ~ @sarge4mayor
"That's not cool @50cent" ~ @queencleopatre
"Dammnnn you petty during Christmas too!!? Lol." ~ @nidsynid
Besides being one of the most industrious entrepreneurs, 50 Cent -- real name Curtis Jackson -- also has a reputation for social media trolling, and sadly, Marquise and Shaniqua are two of his frequent victims.
Recently, he insisted that Marquise is not his son after a follower called him out for neglect. 50 had shared photos of his younger son Sire Jackson with second baby mama, Daphne Joy.
The six-year-old was pictured in high spirits behind a giant Christmas tree and 50 captioned the post: "we getting ready for the holidays, this kid is too much. LOL."
An Instagram user then criticized the rapper in the comments, saying:
"You know, for a dad of three, you're so proud of one child and completely ignore the rest of them. That doesn't make you a good father. Let's hope this boy doesn't grow up like the others. You, as a father, must find a way to get in touch with the others."
The person addressed 50 as a father-of-three, probably because a young boy was rumored to be his son some years ago.
Usually, the "Power" executive producer has no patience for netizens calling him out, but on this occasion, he took the time to respond:
"I only have one. I was just mentoring the other little guy."
50 completely ignored his first son's existence, choosing only to clarify about the son that isn't his.
The rapper has also publicly insulted Shaniqua many times, a situation that earns him disrespect from his son as well.
With his latest stunts, maybe social media should crown 50 Cent the "King of Petty," because he has no time restrictions.
Please fill in your e-mail so we can share with you our top stories!