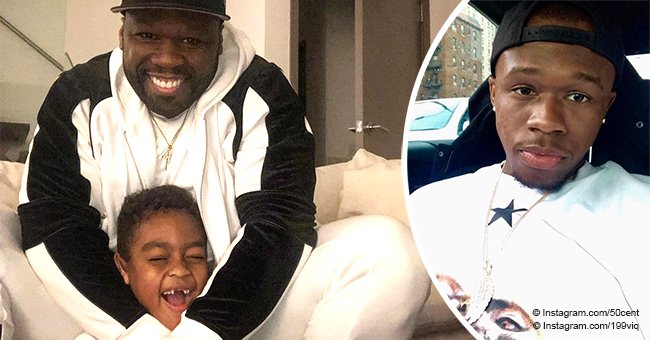 'I only have one son,' 50 Cent rejects his other son after getting called out for bad parenting

50 Cent causes confusion as he insists to an online critic that he only has one son instead of three.
50 Cent recently gave fans something to think about after he responded to a commenter who accused him of neglecting his two other children and only shining light on one. He corrected the person and said he only had one son.
WHAT PROMPTED HIM TO RESPOND
It all started when the rapper posted a photo of his youngest son, Sire Jackson, standing in front of a Christmas tree. The proud father wrote,
"We getting ready for the holidays. This kid is too much."
One fan used the opportunity to remind 50 Cent of his other children which he seemed to neglect. The fan said,
"You know, for a dad of three, you're so proud of one child and completely ignore the rest of them. That doesn't make you a good father. Let's hope this boy doesn't grow up like the others. You, as a father, must find a way to get in touch with the others."
The rapper didn't let this pass. Instead he corrected the fan's notion that he had three kids by writing,
"I only have one. I was just mentoring the other little guy."
THE STORY BEHIND HIS ALLEGED THREE CHILDREN
It's not surprising the fan would assume 50 Cent had three children. He has an older son, Marquis, but that relationship has been strained since 2016. Just recently, the rapper said some scathing words against his estranged son after a series of exchanges where Marquis called out his absentee father for being childish after he dissed the boy's mother.
Their word war escalated when 50 Cent saw a photo of Marquis hanging out with the son of his rival, Kenneth "Supreme" McGriff. This prompted him to say,
"If both these little [expletive] got hit by a bus, I wouldn't have a bad day."
Meanwhile, the "other little guy" 50 Cent was referring to that he was only mentoring is a boy named Davian rumored to be his son a few years ago because they resembled each other. Many thought he was his secret son until the rapper clarified that although he's not his biological son, he treats him like one.
So that there's no more confusion, here's the gist of it. 50 Cent has one biological son he adores, another he hates, and one that isn't actually his but cares for. Hope that clarifies matters.
Please fill in your e-mail so we can share with you our top stories!