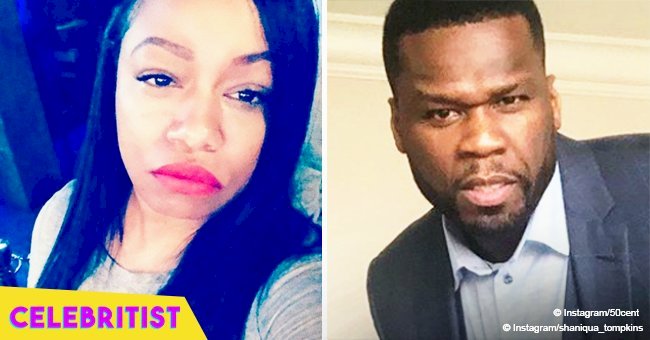 50 Cent's baby mama claps back after he threatens to shut down her alleged reality TV show

It's no news that iconic rapper, 50 Cent, and his first baby mama, Shaniqua Tompkins, don't see eye-to-eye, but the hostile exes took their feud to another level recently.
It was reported on Tuesday that Tompkins would be teaming up with Nas' baby mama, Carmen Bryan for a new reality show. Bryan announced:
"Shaniqua Tompkins and I are working on a reality show, and I'm not allowed to share the title yet, but it will be filmed in New York and Los Angeles. We will have a few other ladies participating in the show, and basically, it's a show based on urban women in business empowering one another."
This did not go down well with 50 Cent, real name Curtis Jackson, and he took to Instagram to fire a warning at Tompkins.
In a post that has since been taken down, the rapper threatened:
"I have to say this in a way she can understand me. Look [expletive] go get a [expletive] job, I own your life rights reality Tv is a no go. I don't know what to tell you, oh go shake your new fake [expletive] over at club Angels."
Now, Tompkins has fired back, calling Fifty's bluff and saying he doesn't have the power he claims to have.
"He's just mad because I don't wanna be with him and he knows that I'm the only one that was there from the beginning that can expose who he really is," Tompkins told TMZ.
She added:
"He's scared, he frightened. …It's so sad that someone that you have a child with puts so much negative energy into trying to destroy you, which I never did."
If what both parties say is anything to go by, then the exes may be meeting again in court very soon. Tompkins revealed that she's planning legal action against the "Power" creator for defamation of character.
Meanwhile, a rep for Fifty has also confirmed: "Mr. Jackson intends to fully enforce his contractual rights as he has done in the past regarding Ms. Tompkins."
Tompkins and 50 Cent are parents to 21-year-old Marquise Jackson.
Please fill in your e-mail so we can share with you our top stories!