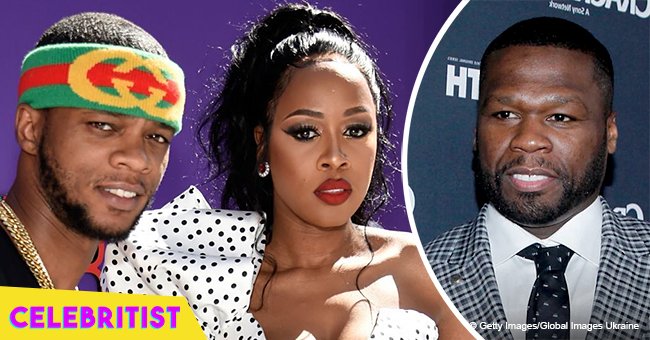 Papoose fires back at 50 Cent after his comments on Remy Ma's drastic weight loss
50 Cent posted a comment on Remy Ma's recent photo, and her husband Papoose is just not having it.
The "Power" star is notorious for creating drama on social media, but it seems this time, Remy Ma's husband Papoose just won't let it slide.
After Remy shared a beautiful photo of herself posing in a gorgeous yellow bodysuit and white jeans, the rapper headed to the comment section to say "Damn remy you lost mad weight. Hey slim.".
Shocked with what 50 Cent had to say, Papoose decided to stoop down to his level and drag 50's baby mama Daphne Joy into it by replying "Damn Daphne no wedding yet? If 50 Cent doesn't want to marry you let me introduce you to my homeboy he's more mature.".
While both men seem to have gone below the belt with this feud, fans are supporting Remy's beau on this one, because he was just defending her against 50, who has always been known for his mean and taunting ways.
50 Cent and Papoose's recent feud shows the dangers of flirting with friends' female companions. Since Papoose's comment, the rapper has deleted his, leaving some fans wondering as to why Remy's husband was going off on the guy.
Despite their feud, SOHH reveals that Remy Ma and 50 Cent are actually close, and the singer recently revealed how much Cent actually meant to her in an Instagram post last 2016. In the post, she shared that when she needed him the most when she was incarcerated, the rapper did not run away and pretend to be busy like other people. 50 Cent took the time to write and sign 2 separate letters in hopes of helping Remy win her appeals.
"He didn't have to do it, but he did and I truly appreciate it... thank you"
50 Cent, Daphne Joy, and Remy Ma have yet to speak up about the issue, or the three of them might be letting it die down until all is forgotten. For now, all we have is Papoose's juicy comment on his wife's Instagram post.
Please fill in your e-mail so we can share with you our top stories!