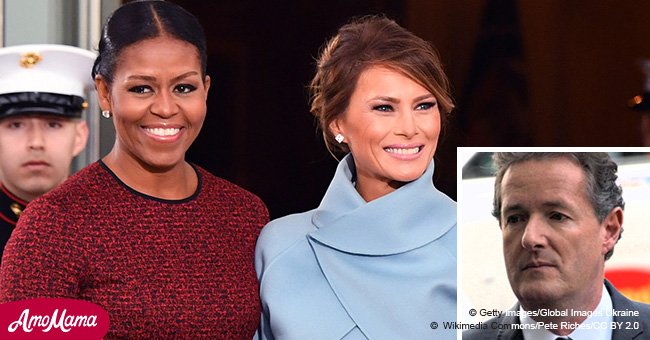 British TV host claims Michelle's book is 'bitchy sniping' at Melania Trump
Piers Morgan berates Michelle Obama for her comments regarding Melania Trump.
Respected British journalist and TV host Piers Morgan has criticized Michelle Obama, whom he has always admired, for taking pot-shots at Melania Trump.
In an exclusive article written for The Daily Mail and published on December 19, 2018, Morgan appeals to Michelle to "go high" and stop denigrating Melania in order to promote her memoir, "Becoming."
"Stop it Michelle , for someone who hates 'going low' your bitchy sniping at Melania just to sell books is a cheap, tacky shot."
MORGAN EXPRESSED HIS DISAPPOINTMENT AT MICHELLE'S ATTITUDE
Morgan revealed that he had always considered Michelle Obama to be the one person in public life who distinguished herself by her integrity, rising above partisan back-biting and "trash-talk."
The journalist's disappointed was complete when Michelle Obama sniped at Melania on Jimmy Fallon's talk show. While watching a clip of the last time she boarded Airforce One, Michelle called out: "Bye Felicia!" which the audience took as a dig at Melania Trump.
Morgan pointed out that what Michelle is forgetting - or choosing to - was that she had brought Laura Bush a similar gift on Obama's Inauguration Day.
"BYE; FELICIA!": AN UGLY REFERENCE
"Bye Felicia!" is a colloquial cultural reference derived from one of the rapper Ice Cube's comedy movies, "Friday". In the movie, Cube's character, Craig, is talking to a notoriously freeloading neighborhood girl called Felicia.
Felicia tries to borrow his car and hit him up for a joint, and Craig sneers at her dismissively: "Bye, Felicia!" The expression became common as a derogatory term.
MICHELLE MOCKED MELANIA'S INAUGURATION DAY GIFT
To add insult to injury, the former First Lady referred to the much-touted faux pas on Inauguration day, when Melania presented Michelle with a lovely silver frame in a Tiffani box, with obvious disdain.
Morgan pointed out that what Michelle is forgetting - or choosing to - was that she had brought Laura Bush a similar gift on Barack Obama's Inauguration Day.
Laura Bush took the awkward moment in her stride and with commendable grace, slipped the gift box behind Obama's back for the traditional group shot.
MORGAN BELIEVES THE TWO WOMEN HAVE A LOT IN COMMON
Even though their husbands are political opponents, Morgan points out how much they have in common: Two women dragged into difficult jobs by their husband's ambition, and placed under the unkind eye of public scrutiny.
Morgan who has met both women say they share a warm and friendly personality, an innate charm, and integrity.
For the journalist, Michelle should know better than any other what Melania is going through and admire the way she has handled the scorn, ridicule, and humiliation resulting from her husband's political and sexual scandals.
Piers Morgan appeals to Michelle Obama not to "go low," especially not to "push" what he qualifies as an excellent book that needs no cheap promotion tricks to sell.
In a related story, Michelle Obama revealed how her husband came to her rescue when Melania Trump broke protocol on Inauguration Day.
Please fill in your e-mail so we can share with you our top stories!